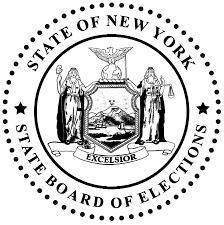 This upcoming Tuesday, Election Day, voters across the nation will head to the polls and cast ballots for a variety of local offices. While much of the political attention this fall has been directed towards next year's presidential election, the elections taking place in our community are just as hotly contested and can have a greater impact on the everyday life of local citizens.
SUFFOLK COUNTY EXECUTIVE
Incumbent Democrat Steve Bellone is seeking a 2nd term at the helm of the nation's 24th largest county. Bellone was elected four years ago after a successful tenure as the Babylon Town Supervisor where he spearheaded a notable downtown revitalization effort in Wyandanch. Bellone's time as County Executive has been less harmonious, as he's had to deal with a $500 million budget deficit the effects of Superstorm Sandy and environmental woes.  All things considered, Bellone has done fairly well and plans to completely eliminate the county's deficit next year. He has also pushed action against blighted homes, promoted the creation of a commuter hub in Ronkonkoma and supporting rebuilding efforts following Sandy.
Republican challenger James O'Connor is a lawyer from North Great River who has not served in elected office. His main campaign points have centered around ending what he calls the fiscally irresponsible policies of the Bellone Administration, including an increase in police salaries while decreasing the number of officers on the streets.
Experience is essential to any government executive, and Bellone is the candidate that has the clear edge in that area. His first term has been a relative success compared with previous administrations and in the face of a challenge from an unknown lawyer, he clearly deserves a second term. The Roundup endorses Bellone.
Suffolk County Legislature
16th District 
Incumbent Democrat Steve Stern is seeking reelection on a base platform that includes open space preservation, sewer infastructure and supporting homeless veterans. His Republican challenger is Thomas McNally, a Dix Hills lawyer who is campaigning for spending and tax cuts in an effort to curb government inefficiency.
Stern has been successful in passing environmentally centered legislation but has failed to address constituent concerns regarding high property taxes. McNally, though inexperienced, has promised to center his term around reducing what he calls"crippling taxes". The Roundup endorses McNally.
17th District
Democratic incumbent Lou D' Amaro is seeking his 6th term in the legislature and running on issues such as downtown development, affordable housing and countering the growing heroin problem in the county. Challenger Janet Heller-Smitelli, a Republican, is centering her campaign around increasing government transparency and "preserving the suburban way of life" by protecting natural resources and quality of life through job creation and lower taxes.
While D'Amaro promises improving community resources, many of his proposals have not come to fruition in previous terms. Heller-Smitelli meanwhile is proposing to bring fresh ideas to the table and making cutting taxes a priority. The Roundup endorses Heller-Smitelli.
18th District
William Spencer is a Democrat running for re-election  after a term highlighted my the passing of his efforts to increase the legal age to purchase cigarettes in the county to 21 and banning certain energy drinks. Lawyer Grant Lally is opposing him by campaigning against what he asserts has been wasteful spending by the county resulting in the current deficit.
Spencer is a beloved local figure and uses his medical background to champion legislation for public health. The Roundup endorses Spencer
Huntington Town Board
Two of the four seats on the town board are up for grabs in this year's election. Incumbent Democrat Susan Berland and incumbent independent Gene Cook are running for reelection while Democrat Keith Barret and Republican Jen Thompson are seeking  their first election to town office. Berland was first elected in 2001 and has spent her four terms has passing legislation aimed at solving issues such as property blight, bamboo regulation, and cracking down on landlords renting accessory apartments. Cook, who has also received the backing of the Republican party, is a small business owner who is often at the forefront of handling the town's budget over recent years. His opponent Barret also owns a small business, and has centered many of his campaign pledges around stabilizing property taxes, reducing crime and fostering smart economic development by advocating for more hiring of seniors and veterans. Republican Challenger Thompson currently serves on the Northport school board has proposed to enact ethics reform to help keep town officials in check including creating term limits for board members.
Once again, experience is key in government and Berland and Cook both possess leadership skills that make them right for the job. The Roundup endorses Berland and Cook.