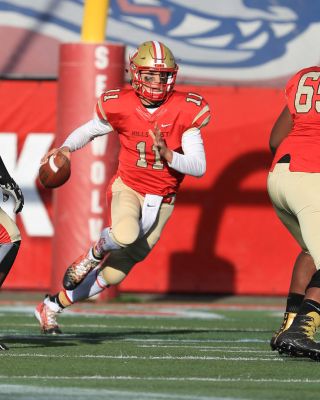 The Hills West Colts football team enters the 2017 season as the defending Suffolk County Champions. Coach Madden and his staff led the 2016 team to the Long Island Championship game, and suffered a closely contested 13-6 loss at the hands of the Nassau County Champion Garden City Lions. I recently sat down with coach Madden for our first weekly spot of the season. Here's how it went:
Interview with Coach Madden
Hey coach. It's great to see you again. How was your summer?
Great. A lot of football over the summer. Spent a lot of time with family. It was good.
Last season you guided your team to the Long Island Championship game against Garden City and came up just short in a hard fought game. How long does it take to get over a loss like that and can anything be learned from it?
You know, it takes a while. It takes a while when you get to the championship game and you come up just a little short. As time goes on it gets little better cause you realize that the guys achieved a great amount of success. They were Suffolk County champions which nobody will ever be able to take away from them. But we did go back and reevaluate some of the things that we did and we learned that it's a process and some of the things that we do is we focus on the little things. Focusing on the little things, because the little things add up in the offseason and in summer camp and then in practice, so that when we do hopefully get another chance at the Long Island Championship the little things will add up so that we come on top this time.
You lost a very talented player in Cam Jordan who has moved on to Syracuse University. Pretty big shoes to fill. Do you have anyone on the roster you believe can replace him?
Yeah, we have a whole bunch of guys. Jeff Terry is coming back, he had the big playoff run for us. Deyvon Wright out of the backfield's gonna help. Justin Brown out of the backfield and in the slot who played a lot of JV last year is gonna help. Brandon Francis has done a great job so far this off season. Luke Anderson in at tight end and the slot position. Cherrod White. So we're not gonna have a one man show, now it's gonna be more of a receiver by committee sort of thing.
Last season you went with multiple quarterbacks at different times, are you going to stick with one quarterback this year?
Gerald (Filardi) is a year older now. Our best offense is when Gerald is in at quarterback and Deyvon's at running back. There will be a package, just like all very good teams have as well. We'll have a wild cat type package where Deyvon is at quarterback but for the most part we see Gerald being the main quarterback.
What's your overall feeling about your team coming out of summer workouts and training camp?
We feel pretty good. We're very very athletic. We're not as big up front as we were last year, we lost some 300 pound linemen, but we're a lot faster and we do a lot of things differently up front which is going to cause some people some problems. Athletically, we're very good. We have a lot of experience but we're still young and I think we will be pretty good.
Your team will be playing the season in a lower division this year due to smaller student enrollment. Do you view this as an advantage or disadvantage and are you familiar with any of the teams in your division?
We were in Division III from 2000 to 2009. The last time we were in Division III we won the Long Island Championship, so hopefully that will happen again. I don't think it's an advantage either way. Division III has changed a lot and is very good. Great teams like Sayville, East Islip, and now Westhampton are in there, so we face tremendous challenges there.
    Thanks again for your time Coach.  Best of luck this season and I'll see you next week.
Students make sure to come out and support the Colts as they battle Comsewogue in the season opener this coming Saturday September 9th at 1pm on the Hills West turf.  Hope to see you there.
Douglas Lattuca
Asst Sports Editor at "The Roundup"