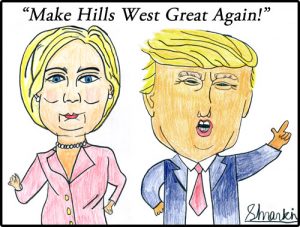 As the Presidential election draws nearer, and people of all ages, professions, and backgrounds come together to watch the last showdown between Democratic nominee Hillary Clinton and Republican nominee Donald Trump so, too, does Half Hollow Hills High School West.
As of last Wednesday, October 5th, High School West's principal, Dr. Catapano, sent out a school-wide email asking all teachers to refrain from assigning homework on Wednesday night and tests on Thursday. The email clearly stated that the sole motivation behind this schedule clearance was "encouraging all students to watch the debate." When asked more specifically exactly what Dr. Catapano aims to achieve through this effort, he explained that the students, "especially the seniors," were not far off from becoming voting citizens themselves and that some substantial thought should begin going into the political process that they will soon be a part of.
Following the principal's line of thought, the faculty, specifically the social studies department, had been making a notable effort to encourage students to recognize the significance paying attention to and getting involved in the election. Most every teacher in the department, spanning throughout all grade levels, plans to spend at least some class time covering the debate or the election as a whole, being that election day is already less than three weeks away.
Most notable among these teachers are those who teach Government and US History. Ms. DiMartino, who teaches Honors Government, Current Events, and AP Human Geography, and Mr. Kilkelly, who teaches AP Government and Current Events, have chosen to focus on teaching how the election process and debates work, as to give their students an idea on what to expect and how to play their part in future elections. Mr. Kilkelly explains that there is an immeasurable value in students learning how the election works since it results in "picking the most powerful office in the country" and whether citizens feel particularly strong about the candidates or not, it will be the policies that the elected candidate promotes that will "ultimately affect us all in one way or another." It is for this reason that, despite all the crazy interactions between the candidates, that the students take what they say seriously and learn how to treat candidates in the future elections as well. This includes teaching students to focus specifically in on whether the candidates answer the questions they are asked by the mediators or equivocate, intending to derail the moderator from that topic. Such a quality is crucial to recognize in a potential president since it will foreshadow whether that candidate will be direct with citizens in the future. It also includes informing students on political jargon such as "battleground states," "MOE" in polls, "delegates," and "likely" voters as opposed to those merely "registered."
US History teachers are also going out of their way to incorporate the debate and election into their classes. In the eyes of these teachers, it is only befitting that students should learn about the upcoming election in class since it is, essentially, history in the making; it simply hasn't been recorded in the textbooks yet. Therefore, it should not come as a surprise that the teachers of these classes are reviewing the debates and the policies of each candidate, exploring the possible impact each candidate could have on the country if he or she is elected. Not only do they incite thought about how this election can have an impact on the future, but they also allude to how elections like this have drastically influenced the country in the past. Mr. Thidemann, who teaches Criminal Justice and Experience in Law along with US History, reasons that just as generations of the past have shaped this country into what it has become today, the students who presently spend most their time inhabiting Hills West's halls are "literally the future of this country." Consequently, it is only wise to "start them as young as possible in growing into politically aware and politically active" citizens.
The initiative taken by Dr. Catapano and the Hills West faculty is an important one for a multitude of reasons. For starters, millennials, the age group that ranges from eighteen to twenty-nine, only comprised 19% of the electorate in the 2012 election. However, Pew Research Center provides compelling evidence that millennials will soon dominate the electorate, overshadowing both the Baby Boomers, who have gone down in history as a political force to be reckoned with, and prior voting generations. In the last election cycle, only 56% of the Baby Boom generation reported to voting. With the apparent downswing of active voters in older generations, it will soon be time for the younger generation to take up the mantle.
For this reason, online polls for students in Hills West will be set up, encouraging students to get into the habit of voting for the future election cycles to come while simultaneously gauging a sample of how the next generation will likely vote. In past election cycles, the social studies department has set up an online poll for students of all four grade levels, asking all students to vote. The voting has been anonymous, keeping consistent with the actual voting process of this country. From the results, the department has been able to compare the school's votes on a state and nationwide level. It has not yet been confirmed, but if the department can compose such a poll within the next three weeks, students will be able to participate in a similar online poll for the 2016 election. If not, students will still get the opportunity to take a similar on the Hills West Roundup website, which, regardless of whether or not the social studies is posting an online poll, will release a poll of its own.
The objective of this effort, as well the elimination of homework and tests for the time being, is essentially to encourage students to take the time out of their schedules and dedicate an hour or so considering the political future that awaits them. It is not long now until we, the high school west students, will be adults and it will soon be our responsibility to pick up the mantle of political responsibility that our parents and grandparents have carried dutifully for so long. Whether that means watching the debate, learning the political jargon thrown around come election season, keeping updated with politics, or simply filling out a school wide poll online, whatever we do to prepare as high schoolers will show in our adeptness and responsibility as future voters. It is time that we recognize that the world of politics, a world most of us have not delved too deeply into up till this point, is synonymous with a lifetime of our civil responsibilities, responsibilities that await us beyond these school walls.