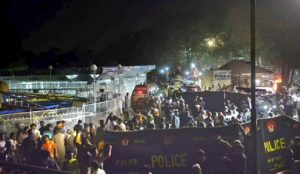 This past Easter Sunday, a bomb went off in Iqbal park in Lahore, Pakistan, just feet away from a children's swing set. The result: at least seventy-two people dead, twenty-four of which were children.
Unfortunately, the casualties do not stop there. According to CNN, Punjab province Chief Secretary Khizer Hyat confirmed that an additional 341 people were injured. The residents of Lahore are now in a three day mourning period for those fallen Sunday evening.
Shortly after the explosion, Jamaat-ul-Ahrar, a Pakistani Taliban group with affiliations to ISIS, took responsibility for the explosion, professing that its intention was to wipe out a large number of Pakistani Christians celebrating the holiday in the park with their families. Approximately 2 percent of the total population in Pakistan is comprised of Christians. However, Pakistan has long been criticized by radical Islamic groups such as Jamaat-ul-Ahrar for its lack of strict Islamic law in the legal system. The result has been a struggle for power in the government between the two million Pakistani Christians, and hard line Pakistani Muslims. Unfortunately, Jamaat-ul-Ahrar has made this struggle violent.
Yet, even though the terrorist group claimed to be attacking one particular faction of the Pakistani people, their actions prove otherwise. Although Jamaat-ul-Ahrar supposedly aimed to harm only Christians, according to CMT, it was actually Pakistani Muslims, who suffered from the majority of casualties. This fact serves as evidence that Jamaat-ul-Ahrar is not attacking any particular religious affiliation, but rather an entire nation.
According to Ehsanullah Ehsan, a spokesperson for Jamaat-ul-Ahrar, the purpose of the bomb was to "send this message to Prime Minister Nawaz Sharif that we have entered Lahore." He did not say that the purpose was to attack Christians, but rather to make the extremist group's violent presence known to the country. That sounds a lot more like a threat to the nation as a whole. Prime Minister Nawaz Sharif perceived it as such, canceling his trip to America and declaring over a radio address with steely resolve that he will not let terrorists "play with Pakistani lives."
As a result of the attack, a series of raids have already taken place in Pakistan that have led to the capture and arrest of various suspected terrorists. According to military spokesman Lt. Gen. Asim Bajwa, the personnel have already regained a "huge cache of arms and ammunition" that were in position of these suspects at their time of capture. Many countries have already condemned the attack, including India, who Pakistan has always had a difficult relationship with. Primary among the condemners is the US, who, as of now, has encouraged citizens to refrain from traveling to Pakistan if it is "non-essential travel."