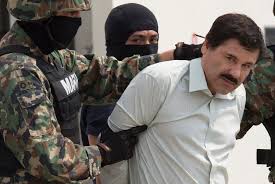 After a report that "El Chapo" – the notorious drug lord of Sinoloa cartel – was near the Chilean-Argentina border, many countries, specifically the United States, were enthused to find the escaped convict.
Infamous for being the leader of the most dangerous drug cartel in America, El Chapo escaped from a maximum security prison in Mexico on July 11th, sending a wave of panic throughout the continent. The Mexican National Security has been putting nearly all of their resources into finding him and (although Mexico hasn't allowed the United States to be publicly involved in the hunt) the U.S. has been supplying the Mexican government with resources to find El Chapo according to the Los Angeles Times.
The United States government is not alone. Many other countries near Mexico have been somehow involved in the hunt, including Chile and Argentina, where a caller reported of El Chapo trying to cross the border. As a result, according to CNN, Argentina was on high alert on November 6th. After three days, however, Argentina called off the alert immediately after their government tracked down the caller and a judge verified that the caller supplied false information.
Unfortunately, once again, the world has no clue on the whereabouts of the dangerous drug lord, El Chapo.