Ste-phen Im-bur-gi-a
Noun
The "Renaissance Man" of High School West
Stephen Imburgia, President of the junior class of 2015, is anything but a stranger to the halls of Hills West. Stephen has been in the Student Government for the past three years of high school as well as an active member of numerous clubs and activities. As a student, he is well-rounded, determined, humble, and hardworking. With these valuable characteristics, it is no surprise the junior class of 2015 won the class competition during Homecoming 2013.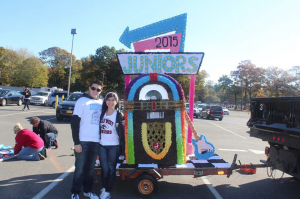 Last year, during Homecoming 2012, the class of 2015 made Hills West history, being the first underclassmen to ever win the Homecoming class competition. As the president of the sophomore class, Stephen was able to encourage more of his fellow students to participate and work together to succeed in the festivities of Homecoming.
This year, the class of 2015 returned with the determination to win Homecoming once again. Using last year's triumph as motivation, Stephen as well as his fellow officers, Brooke Camarda, Alexis Mitchnick, and Taylor McGee went above and beyond to ensure success. They worked harder to plan and perfect the banner, float, gym decorations, t-shirts, skit, and dance. Stephen spent countless hours after school painting, and repainting, sometimes starting from 2:00 until 5:30 p.m. He even sacrificed his social life and spent his friday nights rolling tissue paper in his garage to improve the float.  As expected, hard work does pay off, and the class of 2015 won Homecoming two years in a row.
"Nothing makes me happier than seeing the class of 2015, unified and cheering at pep rally. Everyone is friends and everyone loves being a part of this class, and it puts a smile on my face knowing that I contributed in making that happen. There is definitely stress, but it's more rewarding that anything else," comments Stephen, who is grateful for the hard work of his fellow officers, grade supervisors, and the class of 2015. "We've done it twice, I know we can do it again," he says in regards to Homecoming 2014.
As Junior class president, Stephen is looking forward to "planning the junior social, booking senior prom, organizing fundraising events such as competitions and barbecues, and you can't forget, working the bar at senior banquet." It is his goal to increase the class profits and decrease the price of Prom and Junior Banquet tickets later in the year, making it affordable for all to attend.