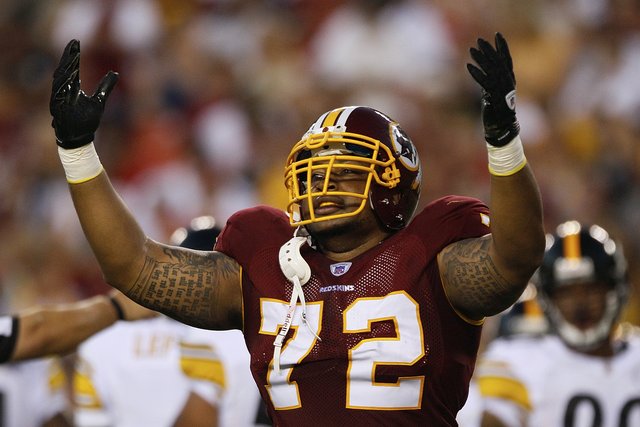 Many people would give anything to do what Stephen Bowen does. The 28 year old Hills West and Hofstra graduate suits up every Sunday during the fall to play the sport he's loved since he was little. After playing football for the Hofstra Pride, Bowen started his NFL career playing for the Dallas Cowboys before signing a five-year, $27.5 million contract with the Redskins in 2011.
This year the 6'5″, 310 lb defensive tackle was voted co-defensive captain by his teammates, and helped lead the redskins to the playoffs. While some would let stardom get to their head, Stephen Bowen has remained quite levelheaded since his days as a Colt, where as a Senior recorded 97 tackles. "I want to know what I'm going to do after my football career is over," Bowen told WRC-TV News in Washington Sunday. Bowen and his wife Tiffany were being interviewed about a unique course being offered at George Washington University, that allows current NFL football players to earn their MBA over the course of two off seasons. "Football is not gonna last forever, and I need a plan B," said Bowen.
"I think that Stephen taking MBA while in the NFL is a direct relationship of Stephen's character, he's always looked forward and is smart enough to know that the NFL will not be around forever, he's all about family and success so this isn't much of a surprise to me," said Hills West Coach Tom Migliozzi.  Luckily for him he won't be going back to school alone, as 40 other players are also partaking in the opportunity including Shawne Merriman, Will Witherspoon, Marques Colston, Antwaan Randle El and Samari Rolle. Sanjay Rupani, a representative from George Washington University School of Business, said that the school was proud to start the program. "79 percent of athletes end up in financial distress after retirement, and that's a trend we want to reverse," said Rupani.
"He was someone who always looked forward, and it's nice to see that he is taking his wife's advice and taking advantage of a great program," said Head Hills West Football Coach, Kyle Madden.
Quotes added by Miles Essner