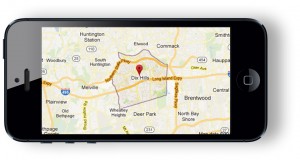 A community is a group of people living together in one place. So what is Dix Hills? Are we a community? A town? Or are we just a subset of a broader government?  Are we simply zip code 11746 and area code 631? Or do we have an identity? Most of the schools in our district are located in Dix Hills and many students are Dix Hills residents, but most have no idea what Dix Hills actually is.
Dix Hills spans three exits on the Long Island Expressway, yet it is not even considered a town. As a matter of fact, Dix Hills is actually a hamlet settlement and a census designated place (CDP). A CDP is a concentration of population identified by the United States Census Bureau for statistical purposes. These areas, like Dix Hills, are populated areas that lack separate municipal government; however, they resemble incorporated places.
So if Dix Hills isn't a town, what is it? Well, it's a CDP that is a part of the town of Huntington. It acts as an unincorporated area, or a region of land that is not governed by its own municipal corporation but is instead administered as part of larger administrative bodies (i.e. a township, borough, or county). In fact, Dix Hills spans only 15.9 square miles on Long Island while the town of Huntington spans 137.1 square miles. Located relatively central on Long Island, Dix Hills lies on the south edge of Huntington bordering the town of Babylon. The LIE cuts almost straight through the middle of Dix Hills
"I have lived in Dix Hills for 11 years. I like living here because it's safe, the schools are good, and especially how close it is to things like Tanger, but not too far from Roosevelt Field and New York City," commented sophomore Alyssa Goodman on her life in Dix Hills.
Dix Hills was named the nineteenth most affluent U.S. neighborhood by Forbes with a median household income of $127,632 in 2008. Since it lacks its own distinctive government, Dix Hills benefits from the town of Huntington's efforts without spending money on its own municipal government. We still pay taxes, but not to Dix Hills, to the town of Huntington.
So why does the identity of Dix Hills matter? What if Dix Hills were separate from Huntington? Maybe we'd pay less taxes because instead of supporting the entire town of Huntington, consisting of many hamlets, school districts, and other infrastructures, we'd only be supporting our small fraction, the 15.9 square miles. While the mystery of the defintion of Dix Hills has been solved, the pride of its residents will remain forever.