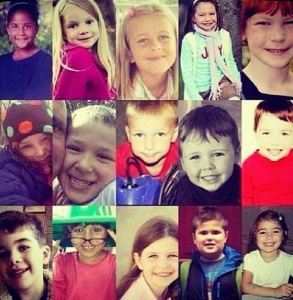 On December 14th, an unanticipated shooting at Sandy Hook Elementary School, in the small town of Newtown, Connecticut, forever changed the lives of 26 grief-stricken families. The lives of 18 students and 6 teachers were taken on the premise of the elementary school and it was later announced that 2 more students had died in the hospital from gun-inflicted wounds the same day.
Prior to the shooting at Sandy Hook Elementary School, the shooter, now known to be 20 year-old Adam Lanza, murdered his mother, Nancy Lanza, at her home with a gun from her own collection. Following the murder of his mother, Lanza drove his mother's car to the elementary school (where Nancy Lanza was not affiliated with despite earlier claims in reports), where he forced his way into the classrooms, past the pricipal, Dawn Hocksprung. 26 victims lost their lives and Adam Lanza's body was found dead carrying a false ID identifying him as his brother, Ryan Lanza. Currently, Ryan Lanza remains unconvicted as a suspect but continues to be held in custody.
From this shooting, stories honoring the teachers as valiant heroes have emerged, including the story of Victoria Soto, a 27 year-old 1st grade teacher who lost her life protecting her students, who all survived the shooting.
The tragic news of this shooting has impacted the nation in its entirety and resulted in a call for a further intensified debate on gun control due to the gun-related events in this year. Although much information is still unknown, including the motives of Lanza, the nation has risen to support the families who have forever lost a loved one. President Obama, in response to the shooting, stated on Friday, "We're going to have to come together and take meaningful action to prevent more tragedies like this, regardless of the politics."