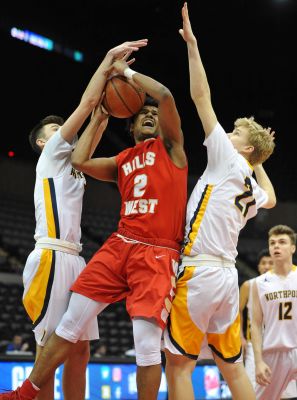 It's the start of the postseason as the ninth-seeded Half Hollow Hills West Colts (15-5) travel to East Setauket to take on the eighth-seeded Ward Melville Patriots in the first round of the Suffolk County AA Playoffs on this Saturday, February 17th, at 1pm. Those records of each team can be thrown away, though, as the playoffs mark a new opportunity for both squads.
The Colts and the Patriots met once in the regular season on Tuesday, December 5th, with Ward Melville taking home a 57-44 road win. Alex Sobel, who is currently averaging 14.6 PPG for Ward Melville, tallied a double-double with 17 points and 13 rebounds, while adding an impressive 5 blocks. It was a frustrating loss for the Colts – who were led by 14 points on four 3-pointers by freshman Brent Bland – as they surrendered a 34-24 halftime lead on their home court. Hills West was outscored 17-5 and 16-7 in the third and fourth quarters, respectively.
Ward Melville finished the season very strong, winning nine of their last ten games, with their lone defeat coming to the likes of Brentwood. Similarly, Hills West finished their season relatively strong as well, winning seven out of their last ten, with the losses coming to the two top teams in League 4, Deer Park and Bellport.
Combo-guard Derek Brower Jr., who dons the number 2 for the Colts, has been the rock for the team all season, averaging 23.1 PPG, which stands at seventh in Suffolk County. Jeff Terry, the second leading scorer for West, averages 11.3 PPG, and will need to have a big time game if the Colts are to knock off the higher-seeded Patriots on the road. On the other hand, Ward Melville, who enjoys a well-balanced scoring attack, sends out three electric scoring guards alongside the aforementioned big man Alex Sobel in 5-9 Robert Soto (9.5 PPG), 5-9 Brendan Martin (11.2 PPG), and 6-3 Ray Grabowski (14.3 PPG).
Expect a great game between these two, and the winner takes on #1 Hills East, who is led by Quinnipiac commit and the county's leading scorer in Savion Lewis. Tune into the Colts' Corner Podcast on Apple Podcasts every Thursday for extensive coverage on Hills West sports.
All credit goes to Newsday for statistics and MaxPreps for player heights.