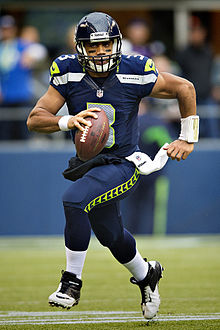 This past week, with the conclusion of the Chiefs vs. Cowboys game, the NFL as a whole had completed 128 games, and had 128 games remaining in the regular season. This defines the midpoint of the season, which makes now an excellent time to look at the biggest surprises in the world of fantasy football thus far.
Shockers
Russell Wilson – Sure, Carson Wentz is the favorite for MVP, breakout player of the year, and is number 1 amongst quarterbacks in fantasy. He has also certainly been a surprise. However, right behind him in these categories is Seattle Seahawks' QB Russell Wilson. Since Week 3, Wilson has averaged 25.4 points per game. How Wilson does this without any form of an offensive line has baffled NFL fans, analysts, and players throughout the season, yet he continues to shock.
Alvin Kamara – Benefiting from the departure of Adrian Peterson, Alvin Kamara has busted onto the scene in his rookie season, and is putting together a strong case for OROY due to Deshaun Watson's season-ending injury. In PPR formats, Kamara has had double-digit fantasy points in every game with the exception of Weeks 1 and 2. The only other running back with such a streak is Leveon Bell. Kamara has been an absolute gem.
Tyreek Hill – After an outstanding rookie season, Hill was expected to return to this planet in his Sophomore season. However, "The Cheetah" lives in the fast lane, and he has made his peace sign a league-wide trademark for his infamous spectacular plays. An odd trend has taken place with Hill in the 2017 season. Starting from Week 1, the speedster has alternated huge games with duds in a perfect fashion. Every other game, Tyreek Hill has broke off a long touchdown. This has earned him the rank of 3rd amongst wide receivers in fantasy so far. The Cheetah is flying through the league.
Zach Ertz – The Philadelphia tight end is the only non-quarterback to post double-digit point values in all 9 weeks of the regular season. This stat is truly unbelievable, as tight end is a historically thin position in fantasy in recent years. This rock of consistency may have gone undrafted in August, and is now probably the most highly coveted tight end in all of fantasy.
Shocked
Jameis Winston – High hopes for the Bucs' QB looked as if they may have been fulfilled early in the season, but injuries and poor performances have plagued Winston and his squad in 2017. The former number-one pick in the NFL Draft ranks 21st amongst fantasy quarterbacks so far. This makes Jameis Winston a disappointing surprise in this regular season.
Demarco Murray – After likely being drafted within the first three rounds of fantasy drafts, Demarco Murray has seen the emergence of Derrick Henry eat into his workload. Murray ranks around 27th in fantasy running back productivity, with only two games posting greater than 10 fantasy points. Murray has been a huge letdown in 2017.
Jordy Nelson – Nobody has been hurt more by the Aaron Rodgers injury than his favorite target, Jordy Nelson. The star wide receiver was hot with A-A-ron on the field, but since his broken collarbone, Nelson has fallen of the cliff of fantasy relevance. After only a few weeks without Rodgers, Nelson has fallen to 27th in the fantasy wide receiver rankings.
Jordan Reed – This man is really, really fragile. Jordan Reed is always hurt! Every time you look up, he pulls a hamstring. It's really unbelievable how someone can accumulate so many minor injuries without having any season-ending ones. The tight end ranks 21st in PRK, and, although his injury struggles have not been surprising, his production when healthy has been weak, causing his season to be a negative surprise.
I wish you the best of luck in Week 10!