The unpredictable personality of Donald Trump prevails after being sworn into the highest office of the United States. President Trump has been in office for about a month now. Yet, he filed for his 2020 re-election during the evening of Inauguration Day. He campaigned in South Carolina and Florida already. Although pundits were not expectant of this action, I would assume that they were certainty not surprised.
Few expected Donald Trump to run for  the presidency. Few expected him to sweep the Republican primaries. Most polls pointed toward Hillary Clinton yet Donald Trump's campaigning team spent a lot of their time in the battleground states of Michigan, Wisconsin, and Pennsylvania; three states that have been a part of the Democratic stronghold for years. Considering these facts, the real question is how  anyone could be surprised by the launch of the 2020 campaign.
Trump was motivated by the crowds that turned out by the tens of thousands in key swing states. Although he constantly ensures the people that he is ready to work, sitting in the Oval Office may be quite tedious for him. Trump is used to the crowds and the attention. Without his rally platform, he feels as if he is being attacked by media platforms and is not given the chance to respond to thousands of people at once.
"Fake news" is the term that has been coined this year to label mainstream media outlets. The term is commonly used by Donald Trump and conservative news outlets. Judge Jeanne Pirro, host of the weekend Fox News primetime show "Justice With Judge Jeannine," gave her input on "fake news."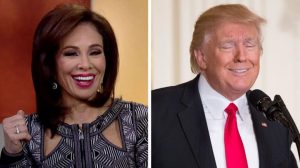 Judge Jeannine Pirro stated, "I think Donald Trump got up yesterday morning and said, 'I've had it with this fake news hogwash. I've had it with my people spending time going out there and trying to rebut what they're saying. I'm gonna go out there myself, I'm gonna talk to the people.'"
Fake news has proven to be an issue. One of the most recognized fake news stories is a story about Former President Obama signing an executive order that would ban the Pledge of Allegiance in schools and the Star Spangled Banner at sports events.
While he is attempting to get a point across, President Trump should address the situation in a more assertive method. For example, he can organize a conference with media contributors to settle the issues that he has with them instead of him and right-wing news outlets deeming widely-respected news outlets as fake news. Mainstream media and the President should be able to criticize one another, as it is guaranteed by the First Amendment, but they should do so respectfully and constructively. Neither the President nor the media have been fair regarding each other.
Negative commentary concerning Donald Trump has been prevalent during the campaign season. Rachel Maddow, MSNBC News Anchor is widely known for her breakdown on election night: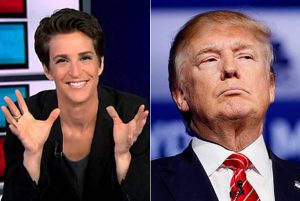 "You're awake, by the way. You're not having a terrible, terrible dream. Also you're not dead and you haven't gone to hell,This is your life now, this is our election now, this is us, this is our country – it's real."
Just as Megyn Kelly, host of the former Fox News weekday primetime show "The Kelly File," cleared the air with Trump after her question concerning women helped her become bombarded by Trump and his supporters, Maddow should sit down with Trump and should settle the tensions that exist between them.
In addition to the heavy criticism Trump receives from mainstream media outlets, he is also known to receive heavy criticism from well-known celebrities and people with large influence in the United States, such as Meryl Streep and Mark Cuban.
Meryl Streep made comments about the once President-elect at the Grammy Awards. Mark Cuban, entrepreneur and owner of the Dallas Mavericks, made a political statement at one of his team's NBA games. He arrived at the game with a jersey that had the number "46" on it. Clearly, this was a jab at Trump, as Trump is the 45th president of the United States. Although he formally declined to run for president in 2020, one can infer that this statement was intended to deem the POTUS as "illegitimate" or "unqualified."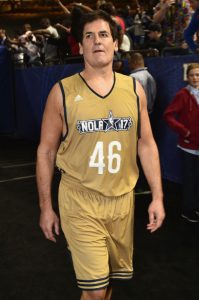 2020 campaign speculation has already begun. Although many speculate that Nikki Haley (U.S Ambassador to the U.N), Ohio Governor John Kasich, Texan Senator Ted Cruz , or South Carolina Senator Tim Scott could run against Trump in the Republican Primaries, it is very unlikely that Republican voters will turn out for these candidates unless Republicans begin to view Trump as unfavorable at the conclusion of his first term.
Within the Democratic Party, the search for the strongest candidate to defeat Trump in 2020 has begun. Up to 27 Democratic candidates could be taking part in the 2020 Democratic Primaries. Many U.S governors, former U.S cabinet members, and senators are listed throughout the internet, but the biggest standouts to New York voters include two-time Democratic candidate Hillary Clinton, Vermont Senator Bernie Sanders, New York City Mayor Bill De Blasio, and pop singer Katy Perry.
Of course, as many high school and college students know, Kanye West has declared his 2020 presidential run as an independent candidate at a concert in August. Anti-war activist and journalist Adam Kokesh has been declared the Libertarian candidate of 2020. Unsurprisingly, pundits expect Jill Stein to be the Green Party candidate for the third time.
With the independent and third party voters movements including Green Party 2012 and 2016 candidate Jill Stein's heavy criticism of a bipartisan system, perhaps Kanye West and other third party candidates will poll 15% or more in at least five national polls and have the chance to participate in the presidential debates.
The 2016 election has certainly been decisive. Half of the country is cheering on Donald Trump while the other half protests his immigration orders and "mourn the death of democracy." 2020 is certain to be just as interesting since Donald Trump will be involved. U.S politics these past two years has sparked the interest of high school students, including Hills West students. Surely, more voters will turn out in 2020 as the next voter generation becomes eligible to vote. The current Freshmen to the current Seniors of Hills West will all have the ability to cast their vote in 2020. Why not learn to become educated and responsible voters in preparation for when that day comes?