On Wednesday, August 26th, freshmen students stormed the halls of Hills West for the school's New Student Orientation. This was, for most, their first experience of high school life and their first taste of the next four years. After an introduction from Principal Dr. Catapano, Assistant Principals Mr. Ebanks and Mr. Abrescia, and Freshmen Advisor Mr. Billman, the students took to the halls for tours and informational sessions led by the Student Government, Student Executive Council, and Peer Ambassadors.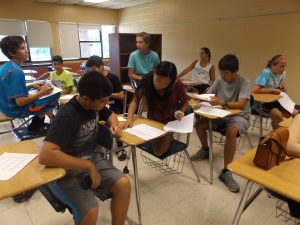 "I'm most nervous about finding my way," said Julianne Gallo, an incoming freshman, "[but] I'm excited because we will have more freedom than middle school."
The new freshmen were overall a bit overwhelmed by the size of Hills West in comparison to Candlewood Middle School, but ran around the school excitedly, trying out their new lockers and running through their schedules. The upperclassmen were very happy to share anecdotes and words of wisdom to help the new students through the next four years of their lives.
"[When I was a freshman] I was nervous about all the people- from being the kings of middle school to being the baby of high school- [it is] very intimidating," said senior and Student Government Treasurer Andrew Faber. However, he gave this advice for the Class of 2019:
"…just stop and take it all in because it happens real fast. It sounds super cliche, but it's so true."
Hills West's first day of classes for all students is September 8th.