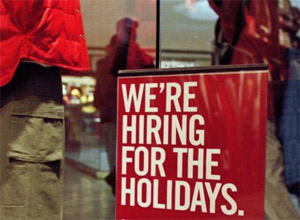 For most high schoolers, the realm of money management, stable incomes, and financial literacy is not exactly the most familiar territory. It seems slightly ironic, considering the vast and expansive professional world we will be inevitably plunged into within the not-too-distant future, as well the newfound independence of college. To get our feet wet with some of the aforementioned ideas or to just have a little extra cash for recreation, seasonal jobs provide a great opportunity for all high school students alike.
For any unaware, seasonal jobs involve working for local businesses throughout a particular time of the year, the most common being the holiday season. This timespan typically refers to roughly the last couple months of the year, of course including Thanksgiving weekend and the holidays before New Years. The demand of seasonal jobs by employers primarily stems from the need to accommodate the temporary consumption growth during this particular time of the year. In fact, numerous stores report that up to 80% of all sales for the year are accounted for in the holiday season. For example, Godiva at Walt Whitman mall provides vast seasonal job opportunities for the holiday season as well as Easter and Valentines. Jobs normally call for an average of approximately 20-30 hours each week from their employees for part-time work.
Especially popular among the high school age group regarding seasonal jobs is the retail side of employment, often including the disciplines of sales/stocking. Although many stores including Abercrombie and Express prefer individuals who have graduated from high school and/or have an adequate amount of prior experience with the field, there are nonetheless an abundance of places worth looking into as a high school student. Comments from students with seasonal jobs express the quality experience such an occupation gives to someone who was previously unfamiliar with the retail trade and perhaps wants to go into something similar for their career. A seasonal job is also a key component of any job applicant's resume,.  It provides a wholly worthwhile way to spend your time, as it stands as a source of small income for teenagers to become more financially savvy, a social outlet, and an excellent experience to have and show off to future employers.
Senior Amanda Ketterer, a worker for American Eagle at the Deer Park Tanger Outlets, comments on what working in retail means to her: "Retail taught me how to be responsible with timing, as I often have to balance my time between school and my friends . It also taught me responsibility with money because I handle my own checks and have to pay for things by myself, so I think it will help me in the future when I have to live alone and manage my money properly."
Naturally, it may seem daunting to apply for a job like this with little to no work experience or knowledge of job application. The hiring process usually begins with visiting the potential shop/store and asking for an application. Subsequently, the store manager will call back and set up a time for an interview. Emily Feigenbaum, a senior who works at American Eagle, comments on the application process she went through: "I got my first job when I was a sophomore, and I was really nervous to apply. My advice for any job applicant is to be prepared. Bring a resume and recommendation letter, and practice answering typical interview questions beforehand." Shop managers also look favorably upon persistence and even pushiness; managers from Walt Whitman mall stated that those who call back often and show interest are much more likely to be hired than those who do not.