Mr. Maroney Says…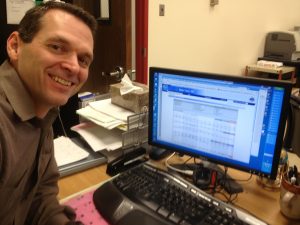 Disclaimer
The predictions expressed by Mr. Maroney on this website do not reflect district decisions regarding school closings or delays. Please refer to the Half Hollow Hills District website for information regarding school closings and delays.

And now, the latest weather forecast from our very own meteorologist, Mr. Maroney!
2/02/18  Friday Afternoon.
A quick update on this SuperBowl weekend.  The weather has been very active and it will continue to be over the next two weeks.  The next storm on Sunday will be mainly rain, we just missed out on a big snow of a foot.  Another storm on its heels by midweek and this one is setting up to be the same as the previous few.  Rain and snow mix but no big snow accumulation but some disagreement on the models so continue to watch this one.  The temperature will continue to oscillate; warming up during the storms and getting much colder behind them.  Enjoy your Parties this weekend!
1/26/18  Friday Afternoon.
We are in the pattern that I described a couple of weeks ago and many of the storms have brought much warmer weather for a while and rain with cold returning behind them.  You may have heard or seen snow possible for Tuesday and Wednesday and rain on Monday depending on the news source.  Much of what they are showing looks worse than what the models are showing at this point.  There will be a front moving through the area on Monday which will still and bring rain and warm temperatures.  Cold air then returns and there is possible light snow for the following two days but no big storm as of now.  With these type of systems, there is always a possibility of a storm riding up the front, developing into a bigger storm, and delivering us some snow. Right now the models aren't indicating that, just some unsettled weather with snow showers over the two days.  Stay tuned and I will update if anything changes over the weekend.
1/11/18 Thursday Afternoon
We made it through the arctic freeze! The good news is that the weather for the rest of the winter will be much more seasonable, and we won't have to deal with the real cold air that we had during the holidays.  But this is still winter and there is a storm for next Tuesday-Wednesday of next week.  Predictions are a bit tougher with this clipper type system than the last storm.  Possible 3 – 6 inch snowfall, but will get a better indication over the weekend; there is a chance that it misses this area entirely.   The pattern is fairly active and there will be several storms to watch as we finish out the month.  The temperature is going to be much warmer than we just experienced, so several may just be rain events.
1/2/18 Tuesday Afternoon
Happy New Year!  Hope you kept warm during the bitterly cold weather. Winter took a while to get here, but it's at full throttle now! January will be a busy month, so we need to watch every storm!
Models don't agree on the exact track of the storm and how fast it intensifies for Thursday.  The range of snow is a small event of 1 to 3 inches to over a foot of snow.  Winter Storm Watch has already been issued for the chance of getting 6 or more inches on Thursday.   Overall, there has been a movement closer to the coast which means more snow for our area. 
A movement of just 50 miles West can mean much more snow!  Friday will be brutally cold for our area, with temperatures in the single digits, maybe touching zero.  Stay tuned for updates; the next two model runs should give us a better indication of how much precipitation we will get.
The cold air continues for the rest of the week, with a possible storm next Tuesday/Wednesday.  That looks more like mixed precipitation than an all snow event.   Good news is that it will be more seasonably cold compared to the arctic cold we have now.
12/13/17 Wednesday Evening

A decent 2-3 inches of snow tomorrow morning. And could be more in some spots on LI. Should be a messy morning. Leave extra time, and watch the news carefully!
12/11/17 Monday Afternoon
The first storm of the season went as expected.  Some of the news media made more of the storm that was needed, but the first snowfall gets everyone excited.  The active winter weather continues this week.  There will be another very cold air mass coming into our area on Wednesday and Thursday; get out your winter jackets!  Tuesday will be warm with some light rain which will usher in the cold front.  Friday is the next possibility of snow;  indications of a coastal storm are possible so stay tuned.
12/8/17 Friday Afternoon
The first wintery weather is at our doorstep. Models are coming into better agreement but still some disparity as too how much snow the area will get.  A general 3 – 5 inches with snow all day, starting in the morning and lasting into the evening is the most reasonable forecast.  The roads will be wet but not snow packed, they still haven't cooled off and the temperature will be above freezing, about 33-34 degrees, for much of the day.  Snow will be mainly on grassy surfaces, cars will need to be cleaned off but traveling shouldn't be too difficult.  There are some indications of getting some more snow, > 5 inches, but I'm not too inclined to go in that direction.  The storm clears out in the evening and Sunday is just cold.  The next storm is Tuesday evening and Wednesday; another close call, which brings in very cold air over the rest of the week.
12/5/17 Tuesday Afternoon
A cold, wintry air mass and a storm will form off the coast by Friday. Depending on the track, models are all over as to location and intensity, but we could get some snow. The ground is still warm, along with the ocean temperatures, but snow can happen as we saw after Sandy in 2012. What is certain is that the cold air will blanket the area, and it looks to be entrenched for the duration of the winter.
One reinforcing cold front after another. Stay tuned for updates on the storm on Friday/Saturday and another one possible for Sunday/Monday (looks to be farther offshore, but stronger).
The winter outlook looks to be active and cold.
Some of the dates I am looking at:
Dec 10, 16, 19, 26 – cold vacation week.
Jan 1, 7 – 10, 16, 23 – 25 (overall a cold and stormy month)
The key for us will be the storm tracks. Too close and we get rain; too far away and we get a dusting.
Disclaimer
The predictions expressed by Mr. Maroney on this website do not reflect district decisions regarding school closings or delays. Please refer to the Half Hollow Hills District website for information regarding school closings and delays.