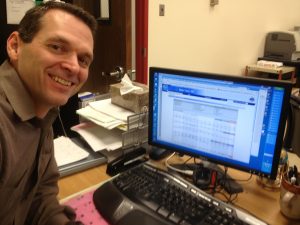 Disclaimer
The predictions expressed by Mr. Maroney on this website do not reflect district decisions regarding school closings or delays. Please refer to the Half Hollow Hills District website for information regarding school closings and delays.

And now, the latest weather forecast from our very own meteorologist, Mr. Maroney!
Saturday Afternoon   3/2/19  

Winter Storm Watch in effect for Sunday evening and early Monday!
Today: First measurable snow of the winter this morning with three inches of the white stuff on the ground. A philosophical question, "Does it really count as a snow event if it happens on the weekend?" Similar to one of my favorite physics questions about the tree in the forest!
Sunday: Now onto the next winter storm! Winter has been blasting the rest of the country, and now it will make an appearance in our region. A winter watch has been posted for more than six inches to fall by Monday morning. The models have pushed just enough south that we are looking at a short but massive wet snow event overnight Sunday. If everything plays out as it seems to me now, then by Sunday we will see the watch change to a warning. Much of Sunday will be dry with rain starting around 5 p.m. A switch over to snow will take place late Sunday, and it will snow overnight, heavy at times. The storm will be over by 7 a.m. but not before leaving 5 – 8 inches of snow. The rest of the day will be actually very nice with temperatures getting into the low 40s, but it gets frigid Monday night.
Another possible snow event on Friday. Stay tuned for updates!
Friday 3/1/19 Evening
The first day of March and it feels more like winter than most of the past several months.  We have escaped much of the brutal winter that has plagued the rest of the country but over the last week the action has picked up.
We will have a small snow event tonight and early Saturday morning with 2-3 inches by dawn so take extra time if you have anything traveling to do early but it will warm up a bit in the afternoon so Saturday during the day will be fine.  The next storm which will take place Sunday afternoon and last until dawn Monday will be much bigger.  We are on the border once again of the rain and snow as we have been all winter.  The models currently are indicating that we should get rain at the start which at some point during the night will change to snow.  How early the change happens will indicate how much snow we get.   The models can't agree yet and there still is a wide range of snow amounts.  Stay tuned and I will update tomorrow with my forecast of the event.
Monday 2/11/19
Snow lovers will have to wait! Another storm will miss the region. Some early light snow will change to rain in the early afternoon. The north shore will get a bit more before the change-over, but that will be limited to 2 inches.
Enjoy it while you can because there doesn't appear to be any snow after February. We have a decent shot at snow next week on Tuesday/Wednesday.
Updates to follow.
Thursday 1/17/19
Winter has been a lackluster season up to this point, but we will be getting several storms over the next three weeks that will bring in wintery weather.  The first is a small storm overnight Thursday and early Friday morning.  Give a little extra time to get to school and work as it may be a bit slick out from the inch of snow.  It warms up a bit during the afternoon and the snow will disappear quickly.
The big complex winter storm overnight Saturday and during the first half of Sunday will give us a mixed bag of snow, sleet, rain, and freezing rain.  Earlier in the week, it looked like we could get 2 feet of snow, but the storm has pushed further inland and we will start out as snow and get 2 – 6 inches depending on where you live.  The north and west parts of the Island will get more snow than the south shore.  Warm air will push in early on Sunday morning (6 a.m.) and give the entire area ran until at least noon.  The cold air comes through the area quickly from that point and the rain will turn to ice and snow as it stops. Not much moisture to work with at this point so not much accumulation; maybe an inch.  The roads could easily get a glaze over them as it will get extremely cold quickly and any standing water will freeze.  Traveling Sunday night could be tricky.
There is a small chance for more snow, but the storm would need a significant jog south and there is only a small chance of this happening.
There is another storm on the heels of this one but once again it looks like a mixed bag. More details to follow once the Sunday Storm departs.  Monday will be extremely cold with temperatures in the mid-teens for most of the day!
White Christmas? 12/20/18
A White Christmas is officially defined as an inch or more of snow on the ground by Christmas morning. Some lucky locales—like Aspen, Colorado—have a historical probability of 100% for a White Christmas. Here on Long Island, however, we are not so fortunate; in any given year, there is a 10-15% chance of snow covering on the morning of Christmas Day.
This year we have a storm leading into Christmas Day that appears on some model runs, so there is a better shot than most years even though warmer air is trying to spoil the party.
The first day of winter starts tomorrow and overall it will be colder and more active than normal starting in January.
3/20/18 Wednesday Afternoon
This storm will be one for the record books by the time it is done.  Getting a winter storm at this time of year that delivers over a foot of snow is rare.  We will be getting 12 to 18 inches of snow; ending in the early morning hours.  It will be below freezing for the entire event and will still be cold tomorrow as well but the sun should break through in the afternoon.
3/20/18 Tuesday Afternoon
I know I will be the bearer of bad tidings, but the storm track is perfect to give us a major snowfall.
The storm has more cold air to work with and will start earlier in the day bringing heavy snow from 9 am to 9 pm.  Snow will continue to fall until early morning Thursday, but much of the snow will be over late Wednesday.  Since the snow is starting earlier, the totals will be greater with many areas getting over a foot of snow.  Don't be surprised to see blizzard warnings for part of the day, with high snowfall rates and high-winds.
3/20/18 Tuesday Morning
Yesterday's forecast remains on track.  May even get a blizzard warning for late afternoon when the wind picks up along with the intense snowfall rates.  The morning will be a mixed bag of precipitation; some sleet, snow and maybe even some ice.  Snow picks up in the afternoon through the evening hours.  We will be getting a liquid equivalent of an inch to inch and a half of rain which is normally a foot to 2 ft of snow.  We will get a lower ratio of snow to rain which means a heavy wet snow from 8 – 12 inches.
3/19/18  Monday Afternoon
If you are a snow lover than Wednesday's storm looks to be significant.  New models hot off the presses have reverted to their previous thought on Friday; a foot of snow for many locations!  It will start in the morning hours but the intense snow will be in the afternoon and evening hours.  The snow should be over around midnight to 2 am.  Some rain may mix in during the day holding totals down along the south shore but this snow event will be for the entire region.  Sorry to break the news to many but we are in for another heavy foot of snow.   There is hope for those that don't want the storm; the storm comes further north which has been the trend lately, and we could get mostly rain.
3/19/18  Monday Morning
Another week and another storm in March; been a busy month on the weather front.  The cycle continues with this next possible storm on Wednesday and once again the models are having difficulty figuring out what will take place.  Every model run has been different from the next and finding any consistency has been difficult.  On Friday it looked like there a strong possibility of a foot of snow in our area, over the weekend, all the models had the storm going further south and today there was a shift more north and reports of accumulating snow have been reported.    The good news is that much of the snow will fall in the afternoon and evening if we get the bigger accumulating snows that some of the models indicate.  We will get two more model runs today and a better idea of what will take place on Wednesday.
Another possible snow/rain event on Saturday night and Sunday but doesn't look as big as the previous storms.
3/16/18  Monday Morning
It may be unbelievable but we have another storm to contend with from Tuesday night through Thursday.  This next storm will be much slower moving and may last up to 48 hours.  This will be another close call with the snow rain line; much discrepancy with how close the storm comes and how cold it will be during the storm.  Some models have very little precipitation and others have moderate to heavy precipitation over the two days.  Snow in the evenings and a rain/snow mix during the day seems to be realistic right now but we will know more over the coming days.  Too many differences right now to make a realistic prediction and if you see any news reports with predictions, they are just guessing.  Stay tuned!
3/12/18  Monday Morning
Here we are once again for the third storm in a row that may give us snow tomorrow.  When I saw the possibility of the storm last week I thought it would be a glancing blow for the region.  The nor'easter is doing its dance once again jogging back closer and farther away from us.  The entire region last night looked to get a solid snowfall of 6 -10 inches and this morning more of the models have much lesser amounts, with NYC maybe getting 2 -4 but much won't stick.  The areas east of NYC will receive more snow than areas west.  HHH is right on the boundary line of a 6-inch snow as it appears now.
Snow will start around midnight, just a mix before that.  It will be heaviest in the early morning with 2 -4 inches by daybreak.  Snow will continue to around midday.
Stay tuned for updates as this storm, like its predecessors, like to wobble and this can greatly change the amount of snow we can get; still equal chances of getting very little snow and getting a snow event of 4 -8 inches.
3/7/18  Wednesday Afternoon
The winter storm has been challenging to forecast because just the slightest movement of the track changes the amount of snow LI will receive.  The storm has taken a slight jog to the SW which will give more snow to all parts except the twin forks, but we aren't talking about that area.  North of the expressway look for a 4 – 9-inch snowfall in a short amount of time this evening.  Most of the heavy snowfall will end around 9 pm.  Areas to the North and West are getting 10 -20 inches from this system. Wow! This will be a heavy wet snow so clean up in the morning may be a bit difficult.
Some small snow showers for Friday and another possible event Sunday night into Monday.  Very similar type of storm.  That would make three nor-easters in a row.  Stay tuned.
3/6/18  Tuesday (3 pm)
Quick update on the winter storm:
Some rain and snow mix early in the morning turning to all snow the more west on the island you travel.  The bulk of the snow will be after 12 pm and last until 9 pm.  About an inch of snow before then and mostly on the grassy surfaces.  There will be some snow intense snowfall rates during this time period; one to two inches per hour.    6 – 10 inches from the middle of LI west and lesser as you go east.   This will be a heavy wet snow that will be difficult to clean up.  It will be windy, not as windy as the last storm, and with heavy wet snow, tree limbs may fall.
3/5/18  Tuesday Morning
Here it is, the forecast you have been waiting for has arrived.  We started off the winter with a brutal start, several weeks of fridge temperatures.  February was very warm and it looked like we may skate through the rest of the winter enjoying spring-like weather.  But, winter has another thing to say about that and March will be colder and stormier.
Tomorrow sets up very much like the last storm but many more of the solutions have us on the cold side.  Just enough cold air being brought into the system and the cooling from the precipitation itself will give us mostly snow. A lot of heavy wet snow is possible from Wednesday morning till midnight.  You will hear a range of snowfall amounts, anywhere from 6 – 15 inches.  Why such a wide range?  The models aren't in total agreement and some have mostly rain.  The forecast may change as you wake up tomorrow if there is a wiggle in the storm at all.  Any way you look at it, tomorrow sets up to be a wintery mess, with heavy wet snow that could bring down more trees limbs.
Stay tuned for further updates!
2/2/18  Friday Afternoon.
A quick update on this SuperBowl weekend.  The weather has been very active and it will continue to be over the next two weeks.  The next storm on Sunday will be mainly rain, we just missed out on a big snow of a foot.  Another storm on its heels by midweek and this one is setting up to be the same as the previous few.  Rain and snow mix but no big snow accumulation but some disagreement on the models so continue to watch this one.  The temperature will continue to oscillate; warming up during the storms and getting much colder behind them.  Enjoy your Parties this weekend!
1/26/18  Friday Afternoon.
We are in the pattern that I described a couple of weeks ago and many of the storms have brought much warmer weather for a while and rain with cold returning behind them.  You may have heard or seen snow possible for Tuesday and Wednesday and rain on Monday depending on the news source.  Much of what they are showing looks worse than what the models are showing at this point.  There will be a front moving through the area on Monday which will still and bring rain and warm temperatures.  Cold air then returns and there is possible light snow for the following two days but no big storm as of now.  With these type of systems, there is always a possibility of a storm riding up the front, developing into a bigger storm, and delivering us some snow. Right now the models aren't indicating that, just some unsettled weather with snow showers over the two days.  Stay tuned and I will update if anything changes over the weekend.
1/11/18 Thursday Afternoon
We made it through the arctic freeze! The good news is that the weather for the rest of the winter will be much more seasonable, and we won't have to deal with the real cold air that we had during the holidays.  But this is still winter and there is a storm for next Tuesday-Wednesday of next week.  Predictions are a bit tougher with this clipper type system than the last storm.  Possible 3 – 6 inch snowfall, but will get a better indication over the weekend; there is a chance that it misses this area entirely.   The pattern is fairly active and there will be several storms to watch as we finish out the month.  The temperature is going to be much warmer than we just experienced, so several may just be rain events.
1/2/18 Tuesday Afternoon
Happy New Year!  Hope you kept warm during the bitterly cold weather. Winter took a while to get here, but it's at full throttle now! January will be a busy month, so we need to watch every storm!
Models don't agree on the exact track of the storm and how fast it intensifies for Thursday.  The range of snow is a small event of 1 to 3 inches to over a foot of snow.  Winter Storm Watch has already been issued for the chance of getting 6 or more inches on Thursday.   Overall, there has been a movement closer to the coast which means more snow for our area. 
A movement of just 50 miles West can mean much more snow!  Friday will be brutally cold for our area, with temperatures in the single digits, maybe touching zero.  Stay tuned for updates; the next two model runs should give us a better indication of how much precipitation we will get.
The cold air continues for the rest of the week, with a possible storm next Tuesday/Wednesday.  That looks more like mixed precipitation than an all snow event.   Good news is that it will be more seasonably cold compared to the arctic cold we have now.
12/13/17 Wednesday Evening

A decent 2-3 inches of snow tomorrow morning. And could be more in some spots on LI. Should be a messy morning. Leave extra time, and watch the news carefully!
12/11/17 Monday Afternoon
The first storm of the season went as expected.  Some of the news media made more of the storm that was needed, but the first snowfall gets everyone excited.  The active winter weather continues this week.  There will be another very cold air mass coming into our area on Wednesday and Thursday; get out your winter jackets!  Tuesday will be warm with some light rain which will usher in the cold front.  Friday is the next possibility of snow;  indications of a coastal storm are possible so stay tuned.
12/8/17 Friday Afternoon
The first wintery weather is at our doorstep. Models are coming into better agreement but still some disparity as too how much snow the area will get.  A general 3 – 5 inches with snow all day, starting in the morning and lasting into the evening is the most reasonable forecast.  The roads will be wet but not snow packed, they still haven't cooled off and the temperature will be above freezing, about 33-34 degrees, for much of the day.  Snow will be mainly on grassy surfaces, cars will need to be cleaned off but traveling shouldn't be too difficult.  There are some indications of getting some more snow, > 5 inches, but I'm not too inclined to go in that direction.  The storm clears out in the evening and Sunday is just cold.  The next storm is Tuesday evening and Wednesday; another close call, which brings in very cold air over the rest of the week.
12/5/17 Tuesday Afternoon
A cold, wintry air mass and a storm will form off the coast by Friday. Depending on the track, models are all over as to location and intensity, but we could get some snow. The ground is still warm, along with the ocean temperatures, but snow can happen as we saw after Sandy in 2012. What is certain is that the cold air will blanket the area, and it looks to be entrenched for the duration of the winter.
One reinforcing cold front after another. Stay tuned for updates on the storm on Friday/Saturday and another one possible for Sunday/Monday (looks to be farther offshore, but stronger).
The winter outlook looks to be active and cold.
Some of the dates I am looking at:
Dec 10, 16, 19, 26 – cold vacation week.
Jan 1, 7 – 10, 16, 23 – 25 (overall a cold and stormy month)
The key for us will be the storm tracks. Too close and we get rain; too far away and we get a dusting.
Disclaimer
The predictions expressed by Mr. Maroney on this website do not reflect district decisions regarding school closings or delays. Please refer to the Half Hollow Hills District website for information regarding school closings and delays.