Author Archive: Poojan Pandya
Hi! My name is Poojan Pandya and I am the website editor of the Roundup. I am a co-founder of the Colts Corner Podcast, West Radio, and West TV. I also write for the sports section of the paper and I'm on the fencing team. I hope you enjoyed the article, check back here regularly for the best and most comprehensive coverage of Hills West news!
http://hillswestroundup.com/wp-content/uploads/2018/04/ccp412.mp3Podcast (colts-corner): Play in new window | DownloadSubscribe: Android | RSSBen, Doug, and Mike talk Colt's Sports and NHL and NBA Playoffs Preview Produced by Poojan Pandya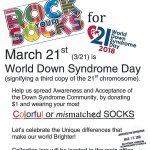 Half Hollow Hills will be recognizing World Down Syndrome Day on Wednesday, March 21! Help spread awareness by wearing COLORFUL OR MISMATCHED SOCKS and donating $1 or more! There will be a jar in the main office to collect donations.
Before Colin Kaepernick was noticed sitting during the national anthem in the 49ers' third preseason game against the Green Bay Packers, the singing of the national anthem was largely an unnoticed part of the sporting event. In fact, Kaepernick sat out the anthem during the first and second pre-season games as well, but went unnoticed. […]