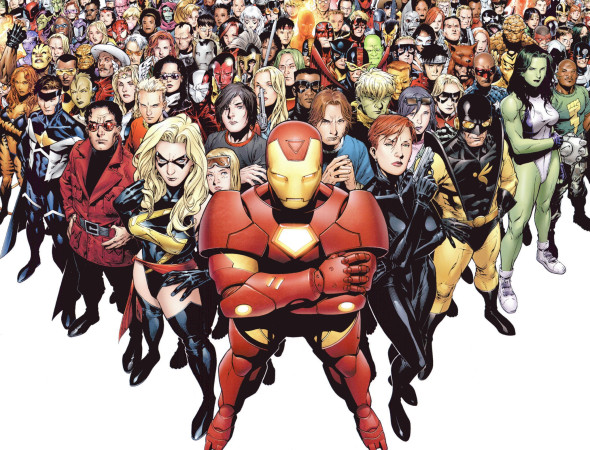 The film industry today has fallen into a repetitive pattern producing action-packed Superhero movies one after another. As one series gains success and profit, filmmakers quickly turn to sequels of the same Superhero or the next superhero series, searching for another blockbuster.  Superhero movies have been dominating the big screen for at least a decade now, with its mainstream roots tracing back to  Spiderman 1 and Superman Returns in the early 2000's.
With most superhero series' large fan base and great profit of such films, it would only seem logical to continue this pattern until the popularity of these films eventually die out. Take the transition from Spiderman to Batman as an example.  Spiderman 3, which ultimately ended the original Hollywood trilogy in 2007, handed the mainstream reins of international box offices to The Dark Knight in 2008, starting a never ending cycle of Superhero films going in and out of movie theaters as if it were a factory.  After the Dark Knight, Robert Downey Jr's Iron Man hit the theaters that same year. As long as production companies see the profit of these films, this cycle will continue.
Since filmmakers are running out of masked conquerers of evil to portray on screen, they decide to make sequels. As more movies from the same series are released, more and more fans from both the original superhero comics and the previous film become interested in the series. According to Internet Movie Database (IMDb), Iron Man (2008) grossed over 300 million dollars while Iron Man 3's (2013) gross domestic revenue exceeded 400 million dollars. The immense increase in profit only goes to prove the growing fan base of such sequels. Soon, it will be more than just Superhero sequels hitting theaters.  A Batman v Superman film is set to release in 2016, as fans from both series will be ready to spend to see their favorite heroes combat on screen.
As long as superhero movies are making a great profit and dominating the attention of avid moviegoers, this consistent effort for Superhero films will not stop. However, not only do filmmakers re-use superheros movie after movie, it seems like the plot is often recycled as well. Good conquers evil, man gets the girl, a city is saved, life will be normal once again in a place endowed with criminals. Senior Jacob Bernstein says, "Superhero movies are too repetitive because the theme is always the same, regardless of the superhero." Nonetheless, despite the notion that Superhero movies are too repetitive, perhaps there is a moral reasoning behind the popularity of such films. Senior Dan Bell says, "I think that movie-goers need Superhero films because they need something to look up to as a role model." Regardless of how these movies are viewed, Superhero films will continue to be a major part of the film industry as filmmakers provide new ways to look at the same old.