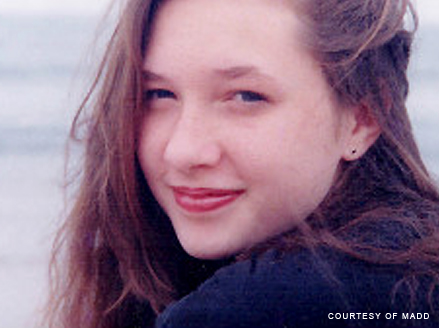 "I even wish that Alisa were here to roll her eyes at me," Jan Withers, the national president of M.A.D.D., admitted to a small group of students at last week's S.A.D.D. meeting as she reminisced about her late teenage daughter. After the passing of Alisa, who was fifteen-years of age at the time of her accident, Jan was broken. She was lost. She felt flattened. 
Twenty-two years ago, Alisa went to her best friend's house for a sleepover and never returned. She didn't smoke and she didn't drink; in fact, she didn't do anything wrong. A boy whom her friend had an innocent crush on had stopped by her friend's house and invited the girls out for a drive. The parents of her friend agreed to let them go. The boy and his posse had stashed numerous beers in the woods and took the younger girls there, but only the boys drank. Once the beer ran dry, the boys staggered back towards the car with the girls, and it was then that Alisa made a mistake. Alisa Withers got into the car with the inebriated group of friends. The drunk, underage driver lost control of the vehicle and the car went flying; however, it was only Alisa whose body was thrusted out of the car and it was only Alisa who was killed that night.
Jan Withers joined M.A.D.D., a grassroots organization formally known as Mothers Against Drunk Driving, to tell Alisa's story and to put the strength of her heartbreak toward a noble cause. Members of M.A.D.D., like Jan, are not solely victims of drunk driving: they are people who refuse to be victimized by drunk driving. M.A.D.D., which works closely with Students Against Destructive Decisions (S.A.D.D.), encourages today's youth to stop and think before hastily agreeing to participate in reckless behavior or giving into peer pressure by means of a three pronged approach. First, parents are informed of their influence over the behavior of their teenagers; it is morally reprehensible to accept underage drinking. Adults must send a clear message to the underage populace that explicitly states the unparalleled and unacceptable harm reckless behavior can cause. Adults send mixed messages when they buy alcohol for the underage, even if it is "just to drink at home," for a home is as dangerous as the windiest road and hazards are not limited to the street. Second, members of M.A.D.D. work to empower the young to learn that they have the power to say no and to make wiser decisions. In M.A.D.D.'s Power of Youth program, students learn astonishing facts about the detrimental effects of alcohol on the body and are left aghast by the heart-wrenching statistics regarding substance abuse. Third, M.A.D.D. encourages communities of age-varying residents to take a stance against underage drinking. The "kids are going to drink anyway" excuse is unacceptable, and the tragedies that are caused by drunkenness are certainly not limited to the young. The fight against underage drinking and drunk driving is one that Americans must fight together.
Such tragedies can occur more than once, despite the ubiquitous belief that these accidents only occur, and rarely do, to other people. The morning after Alisa Withers passed away, her friend Tony brought over flowers and the warmth of consolation to the heartbroken Withers family. One year following the car accident, however, Tony too became a victim of drunk driving. The Withers family had been robbed twice of loved ones, thus demonstrating that tragedies can unfortunately repeat.
Jan showed the S.A.D.D. chapter of Hills West pictures of her late daughter, a graceful ballerina with shining eyes, as they prepared to make a video to raise awareness for the charity walk that raises money for "Walk like M.A.D.D" at Farmingdale State College. Students of S.A.D.D. who were inspired by the powerful story of Alisa Withers hope to inspire others with words of empowerment and to inform them of the important cause. They sat in a circle and listened silently as Jan led them through the rough terrain of her daughter's passing."If I could give you any advice, I would tell you that I love you. You are important. I want you to live a long, beautiful life," Jan told the open-eyed students in the school library. "And no one is invincible."