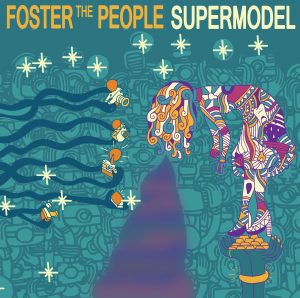 Foster The People, an indie pop band from California, released their second studio album, Supermodel, on March 18.
The release of the album was preceded by three singles, Coming Of Age in January, Pseudologia Fantastica in February, and Best Friend in March.
Mark Foster, the frontman of the band, says the album centers around his personal issues and ideas while he was recording the album. Most of these issues revolve around "the ugly side of capitalism" and the negative outlook on consumerism ideology. The title Supermodel translates to how we want others to perceive us, rather than showing our true selves.
The recording of the album was a two-step process. The instrumentals were recorded first, then the lyrics were written and recorded. In contrast to the their debut album, Supermodel has more emphasis on instruments, creating a more natural sound.

The songs on the album contained dark lyrics, however, the instrumental countered it, providing a vibrant pop sound.
Mark Foster felt that many think "pop music can't have a meaning to it," so they discredit his band. Supermodel definitely shows that pop/alternative rock can have a meaning, as well as good instrumentation.