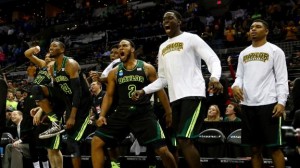 March Madness is underway, and complete madness it has been. Three double-digit seeded teams have made it to the Sweet 16 with a series of unbelievable wins. Dayton, an eleventh seed, had a thrilling win against sixth seed Ohio State and third seed Syracuse. Mercer knocked out second seed Duke before being outplayed by an impressive Tennessee team (the eleventh seed). Only one second seed remains, with Villanova out to UConn, Kansas being shockingly upset by Stanford, and Duke eliminated by Mercer. However, within all of this madness, some stability remains, as three of the number 1 seeds still remain. Wichita State was the undefeated 1 seed, before Kentucky came in and gave them an extraordinary game that saw them lose in the final seconds. With all that has happened so far- from the six overtimes to the vital four point play with 3 seconds remaining-there are still 16 teams remaining in the fight for the most coveted of college basketball prizes. To this end, the Sweet 16 will commence this Thursday, March 28th, and will conclude the following day.
Games to watch in the Sweet 16:
1 Virginia vs. 4 Michigan State                                                                                                                          Michigan State is in a very unique position in that they are favored to win this even with their lower seeding. They did not have a perfect season, struggling with injuries, but when they are healthy they are nearly unstoppable. Virginia is a very tough team, however, and both teams will have to play their best basketball to win this. If Michigan State plays as balanced as they are able to, Virginia will not be able to top them, but this will certainly be a close game.
8 Kentucky vs. 4 Louisville                                                                                                                                           This is perhaps the most exciting game of the Sweet 16. Louisville is a common favorite to repeat in the championship, but they have not played their best in the tournament so far. Kentucky, on the other hand, is the pre-season number 1 team, and played phenomenally in their last game against the undefeated Shockers. Both teams have the potential to win this, and it will truly be a thrilling game if they both show up in top form.
2 Wisconsin vs. 6 Baylor                                                                                                                                                 This is going to be a tough game for both teams. Wisconsin is a very balanced team that has shown the ability to win at both slow and fast paces. They had five players scoring above 10 points in their win over Oregon, which is a threat to any defense. On the other hand, Baylor has been the most dominant force so far. They easily won their second round game. More importantly, however, they dominated Creighton, winning by 30 points. Baylor played superb defense, completely stopping this year's number one offense and the top scorer Doug McDermott. Wisconsin poses a new kind of threat with their deeper offense, but if Baylor keeps playing the way they have so far, it will take a huge effort to put them down.
3 Iowa State vs 7 Connecticut                                                                                                                                                Before this tournament began, Iowa State was considered a great contender for the Final Four. However, they lost top scorer Georges Niang with a broken foot in the second round. This is a massive set back for the team, and many saw this as the end of their NCAA run. This clearly was not the case, as Deandre Kane took charge, becoming the threat Iowa State needs. UConn has Shabazz Napier, who has so far looked like the Kemba Walker everyone wants him to be. This will be a tight game now that Iowa State is on a more beatable level. There is no clear favorite to win this game, and it all depends on how the stars play. If Napier plays like he has so far, UConn will be tough to beat. But Iowa State has a burning intensity to win for Niang, which has worked wonders so far. This will certainly be a "to the buzzer" game.
Other Games:  
1 Florida vs. 4 UCLA                                                                                                                                                  UCLA poses a threat to Florida if they show up in prime form. However, Florida is a force to be reckoned with, and when they are playing well, they are almost unbeatable. Again, if UCLA has a fantastic game, and Florida has a fairly bad one, and upset is possible. But this simply is not probable, and in all likeliness, Florida will advance.
11 Dayton vs. 10 Stanford                                                                                                                                                     Both of these teams simply should not be here. Either team can come up with the win, as they have both beaten teams better than their current matchup. Dayton had the huge wins over Ohio State and Syracuse, while Stanford upset both New Mexico State and Kansas. Regardless, the victor will most likely be put to rest by the dominant Florida.
11 Tennessee vs. 2 Michigan                                                                                                                                           This is an interesting matchup, as Tennessee has been playing extremely well so far. They are a massive team, which will be tough for Michigan. However, Michigan has not had much trouble so far, with superb perimeter shooting. It would not be shocking to see Tennessee win, but Michigan is the more likely victor with their balanced, superstar team.
1 Arizona vs. 4 San Diego State                                                                                                                                             San Diego State has had a truly impressive defense so far, but Arizona's is simply far better. Arizona has proven their offense is very tough to deal with as well. This should translate to a fairly easy victory for the impressive Arizona squad, but if they have an off night, the tides may turn in San Diego's favor. While in normal situations I would say Arizona simply will not lose to them, stranger things have happened so far in this tournament. Regardless, expect Arizona to advance.
                .