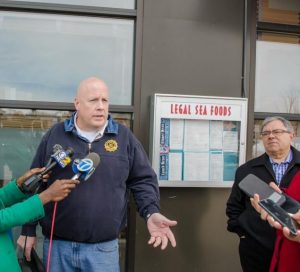 Yesterday, Saturday the 22nd, a carbon monoxide leak in Legal Sea Foods at Walt Whitman Mall in Huntington Station resulted in the death of one person and the hospitalization of 27 others.
Just after 6 o'clock, a report of a woman falling and hitting her head in the basement of the restaurant prompted police and emergency personnel to rush to the scene. Ultimately, approximately 100 firefighters, three rescue trucks and 15 ambulances ended up on the scene. They experienced nauseation and dizziness from the gas as they arrived at the mall's Legal Sea Foods.
28 staff members and rescue workers who were in critical condition, including four ambulance workers and three police officers, were taken to five local hospitals. In Huntington Hospital, the restaurant manager Steven Nelson, 55, was pronounced dead. The 27 others exhibited non-life threatening symptoms.
Although the mall was kept open, evacuation procedures were carried out in Legal Sea Foods, Panera Bread and The Cheesecake Factory as a precautionary measure to prevent further potential exposure to the deadly odorless gas."They told us to leave because of a gas leak," Cheesecake Factory patron Kathy Sella said. Authorities confirmed, however, that the gas's presence was confined to the basement of Legal Sea Foods.
Officials are investigating the source of the leak, currently concentrating on the restaurant's heating system as a contributing factor.
On their Facebook page, Legal Sea Foods posted a statement the same night to express their devastation over the death of their fellow worker:
"Our thoughts and prayers are with Steve's family and all those who were affected by the leak," the statement reads. "Steve's tragic death is a shock to all of us at Legal Sea Foods. He was one of the finest people we've ever had the pleasure of working with. This is a very sad day."