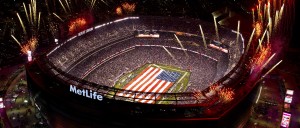 Besides watching two great football teams compete for the Lombardi Trophy, the commercials and halftime show seem to be the biggest draws for such a wide audience during the Super Bowl.  This year's event was filled with a wide variety of commercials from multiple brands and a halftime show that featured pop singer Bruno Mars with special guest The Red Hot Chili Peppers.
Super Bowl commercials, to many, are the highlight of the night.  The unpredictably of newly premiering ads can cause tremendous curiosity among its viewers.  This year, the overall theme seemed to be more dramatic than comedic, more tears than laughter.  The Budweiser commercials were serious tearjerkers; the two that were shown involve a soldier's homecoming and a love story between a dog and a horse.  Even Microsoft took a more emotional, yet sophisticated route with their commercial as they showed former NFL player Steve Gleason, who is currently suffering from ALS.  However, Audi and Kia made highly contrasting advertisements.  They both went with a more comedic approach to display their product.  Audi's "Doberhuahua" commercial centered on a couple that believe that they can create a canine hybrid.  The moral of the commercial being that buying an Audi is luxury without compromise.  The Kia advertisement used the 2000 film "The Matrix" and actor Laurence Fishburne's compelling voice to explain the features of the new car.  Overall, the Super Bowl commercials of 2014 featured a wide range of serious and comedic advertisements.
This year's halftime show featured pop star Bruno Mars, opening his performance with an unexpected Drum Solo.  Coming from a fellow drummer, I certainly approve of the opening that led into Locked Out Of Heaven."  Bruno continued to work the stage throughout his performance as pyrotechnics around the stadium lit the night sky.  A couple of songs later, Bruno perceived to break into "Give It Away" by the Red Hot Chili Peppers, only to be followed by the punk band themselves rising above to the stage.  Once the Chili Peppers departed, Bruno Mars closed his set with the ballad "Just The Way You Are".  Personally, the first half of the performance was quite entertaining, but once the Chili Peppers entered the picture too much of a rift was created between the pop of Bruno Mars and the hardcore punk being played.
The 2014 Super Bowl game between the Seahawks and the Broncos might not have been the most entertaining game, but at least the first Sunday in February brings multiple amenities for anyone to enjoy.