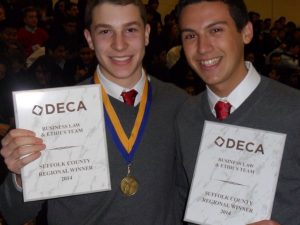 On Wednesday, January 8th, students in High School West's DECA business club participated in the annual regional competition and emerged with several winners. Over 50 students qualified to move on to the next round of the DECA competitions, which will be held in Rochester, New York.
DECA, or Distributive Education Clubs of America, is a club that allows you to compete in business competitions for a chance move up to the next level, states. On Wednesday, January 8th, several students competed in DECA Regionals held at Suffolk Community College. Students from different schools all joined together to take a test in their individual fields for a chance to qualify for states, a week long competition in March.
Junior Jordan Brodsky said, "I have competed in DECA every year so far and I love it. During Regionals, I just have to take an hour long test and then I can hang out with my friends. This year I came in 3rd place in my competition and qualified for States. I wish all my peers good luck at States in the upcoming months." Regionals is also a great way to meet other students who are also interested in business. Kanvar Gulati, one of qualifiers for States this year, said, "Regionals was great this year. I thought my test was really easy thanks to the studying material the club gave me and I'm looking forward to States in March". When asked how the qualifying system works, Kanvar replied, "Basically they grade your test and if your grade meets their standards, then you qualify. However, you only have an hour to take the 100 question test and if your score ties someone else, whoever hands in their test first will qualify. Pretty much, if you study the practice test your advisor gives you, then you'll do just fine".
Hills West Roundup would like to wish a special congratulations to the State qualifiers of this year's Regional Competition!
1ST PLACE                                   2ND PLACE                                   3RD PLACE
LEXI BAINNSON                           JEREMY SHUSTER                     BAILEY LIAO
JOSH BAINNSON                         MATT KIPNIS                              JAKE JAWOROWSKI
ZACH JAYSON                             JORDAN CAMINA                       JORDAN BRODSKY
DAVID MALIGLOWKA                   DEVIN DUBIN                             TRAVIS SCHWARTZ
ELAN SHARONY                           MAXINE FENNER                       EMILY FEIGENBAUM
BRANDON NOMBERG
BROOKE CAMARDA
TOP 10 WINNERS QUALIFIED TO COMPETE AT THE STATE COMPETITION (ALSO TROPHY WINNERS)
MATTHEW LEVIN            JASON YE                              TONI MAROTTI                   JESSICA BARONE
WILLIAM SALZANO         KORY FITZGERALD              DANIELLE CARLEY             BRIANNE FICHERA
CHRIS CONNOLLY         VICTORIA SACCHETTI         JAMES CHIVARO                JUSTIN SACHS
VINNY DAMIANO            SKYLAR SCHNEIDER            CALVIN THOMSON             ANKIT KOHIL
MAX PARK                       ELLIOTT VOGEL                   KELSEY COLLINS                MATTHEW LUZINCOURT
JACQUELINE FONG      JAKE WEINER                        GREG MALIGLOWKA         SPENCER KIRSCHMAN
NEIL SHAH                       MATT FEINSTEIN                 JESSE MORGAN                 JUSTIN WIEDER
BRENDAN IRIS                EVAN HOCHHAUSER           JAKE GELLER                     MARY ANDROTIS
LOGAN BORDIGA           TAYLOR SACHS                   BEN REILLY                         LAKSHMI BABUREDDY
BRANDON BECK
HONORABLE MENTIONS
LAILAMAH  IQBAL                             MICHAEL GURAYAH                        ERIC SABSHON
DANIEL  SMITH                                 ALEX BASS
MICHAEL YOUNG                             LIAM MINERVA
KANVAR GULATI                               MICHAEL MARINO