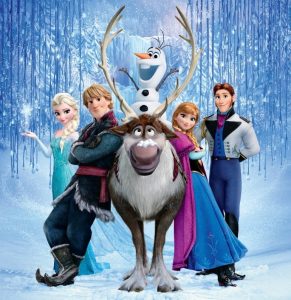 Disney's new movie Frozen seems to be a big hit in today's movie theaters, but exactly how good is it?
While other Disney movies have mainly been directly towards for little children, Frozen seems to be popular among older viewers as well. Frozen tells the story of a young queen with magical powers that enable her to turn anything to ice. When she loses control of her powers, she is forced to isolate herself from the rest of the kingdom—including her younger sister. Throughout the movie, both sisters learn valuable lessons and overcome struggles that eventually lead to a happy ending.
Although this might seem like a rather simple and cliche plot, Disney makes it appeal to audiences of all ages. In theaters,the movie received approval from viewers ranging from age three to age sixty.  Hills West junior Jack Zogheb said, "The movie is a cute family film.  Where the movie really shines is in the animation. Frozen had the most beautiful animation nice seen in any movie ever."  This touching story appears to be drawing more people than usual for Disney movies.
Another aspect of Frozen is its advanced animation. Every snowflake, every strand of hair, every tree leaf is accounted for in this movie. When compared to older movies such as Bolt, it is clear that the animation has improved greatly. The stunning crystal-clear projection of this movie has been mentioned on T.V. and other media, and is probably one of the main reasons people have been rushing to see it.
Of course, no Disney movie would be complete without singing! The Frozen album is number one on the iTunes top charts, and Idina Menzel's hit "Let It Go" hit number fifteen on the iTunes charts, showing that teens and adults everywhere are liking this new movie's soundtracks.
All-in-all, Frozen appears to be one of Disney's biggest hit and is only rising in popularity.