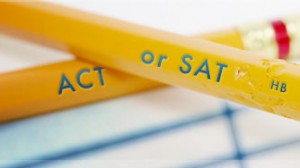 One of the biggest nuisances to high school students around the country is standardized testing. While different schools have different tests, there are two tests that remain the same throughout the country: The SAT and the ACT. Both of these tests are considered college entrance exams, and hence, are one of the most important tests of a student's high school career. So if these tests are so important, how does one prepare for them?
If you were to ask ten people what the best way to study for these tests was, they would all give you different answers. That is because there is no perfect way to study for these tests. There are, however, a few ways that will definitely help you do your best.
One way is to hire a tutor. High School West Junior Nick Casazzone said, "I took the ACT in December and I used a tutor to help study. Working with my tutor definitely helped me bring up my score since I was able to do practice tests and he would explain the answers in terms that I understood. I would definitely recommend anyone who's taking either test to get a tutor." Some other students agreed as well. Jake Mann, a Junior at High School West said, "I definitely would recommend getting a tutor. My tutor was able to give me practice exams and then go over my wrong answers with me until I understood it".
While tutoring has been shown to work for some, others prefer going to classes that offer test advice. Craig Charlton said, "I went to the BNB Academy to study for the SAT. On Saturdays for around four hours, we would go over English and Math for the SAT together in a class-like setting. I think my chances to get a high score are much better after taking the class." Junior Gene Chen attended 'Test Takers,' an intensive 10-week SAT preparatory course held at High School West, which he believed greatly improved his chance at a higher score. Others took a class in the school library; Christa Kiedaisch, who enrolled in the class, commented, "The class was really helpful and made the test seem a lot less intimidating. For $80, I had six classes which focused on English and Math. I also learned great test taking tips like how to manage my time while completing a section."
Classes are even offered in school. If you have an open elective spot, why not try SAT Critical Reading and Writing? One of the teachers for this elective, Mrs. Hart, says, "I love teaching this class. It's a fun and interactive way to prepare for not only the SAT but also the ACT, which not many people know. Plus, I've seen students increase their scores by at least 300 points on the SAT and 3 points on the ACT. Everything you need to know about either test you can learn right here." Taking the SAT Critical Reading and Writing elective not only helps you prepare, but can also give you up to half an English credit!
Studying for entrance exams such as the SAT or the ACT can be a difficult and long process. But if you study the way that suits you best, you'll be able to take the test with confidence and get the best score you can get. Until you decide on a method, try buying one of the many practice exam books and start studying on your own.