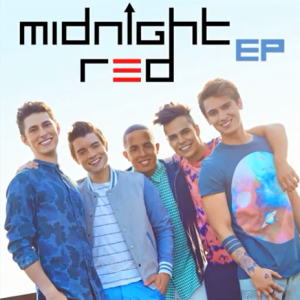 If you do not know about Midnight Red now, you will soon. The up-and-coming boy band has opened for artists such as The Wanted. They even opened for The Backstreet Boys and New Kids On The Block on their NKOTBSB Tour during the summer of 2011. The members, Colton Rudloff, Anthony Ladao, Thomas Augusto, Eric Secharia, and Joey Diggs Jr., released their new, self-titled EP on December 10th. The EP features such songs as "Miss Firestarter" and a remix of their hit single "Take Me Home." The original single was featured in a Coca-Cola commercial that was played in movie theaters across the country. The EP received great reviews and did exceptionally well on the charts. Midnight Red will be opening for Austin Mahone on his MTV's Artist to Watch Tour with Becky G and W3 The Future in 2014, and they are rumored to be opening for One Direction on their Where We Are tour in the summer and fall of 2014. I was able to get an exclusive phone interview with member Eric Secharia.
What song were you most excited for your fans to hear on the EP?
All of the songs really. "Miss Firestarter", "Where Did U Go?", "Nothing Lasts Forever"…there's something different for everyone.
So what's coming up for Midnight Red? Is there any new, exciting news other than the release of your new EP?
Well, we will be seeing our families soon. We haven't seen them in a while because we've been touring, but the EP is what we are most excited for at the moment.
There have been some rumors that Midnight Red will be opening for One Direction on their Where We Are Tour this summer. Is there anything you can tell us about that?
I cannot confirm or deny anything.
Make sure you keep Midnight Red in your head because they will be doing big things very soon!