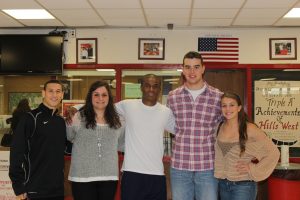 Hills West has a long and proud history of excellence among its illustrious student athletes, from Orlando Magic's Tobias Harris to the legendary track star Kyle Merber. A number of current students have already made impressive strides towards reaching this pinnacle of achievement, and their efforts and talents have earned them the opportunity to pursue their abilities at elite collegiate programs.
Jon Faraci, a junior, has committed to St. John's University as a pitcher for their Division I baseball team.  "It was a surreal moment," he said, speaking of when he committed to the Red Storm baseball program.  "I'm so happy that all my hard work has paid off and I couldn't be more thankful for my family, friends, and coaches."  Faraci hopes to one day fulfill his dreams of playing professional baseball and St. John's University offers an excellent opportunity to prepare for such top-level competition.
Malcolm Flynn, another junior, has also committed to St. John's, but for lacrosse.  Flynn has been one of the most highly sought after defensemen recruits in the nation, entertaining interest from schools such as Ohio State and Duke before settling on St. John's.  His talents on the field have been a extraordinarily valuable asset for the Colts throughout his high school career.
On the soccer field, senior Dylan Greenberg has displayed immense ability, and as such he has been selected to compete around the world on a remarkably competitive team representing the United States.  He has committed to play soccer for the University of Connecticut.  "What Dylan has been able to accomplish is truly remarkable," Mr. Gannon, the school's varsity soccer coach, said.  "Don't be surprised if you see him playing professionally overseas somewhere in the future."
The girls in this school have seen similar success.  Jenn Casadonte, a junior, is a star on the varsity girl's soccer team. Her best sport, however, is lacrosse.  She has committed to the University of Notre Dame to play lacrosse at the college level, a school known for its elite academics and athletics. "Playing lacrosse is what I love to do, and I've always known that it could help me go to a great school," Casadonte explained.  She continued, "I instantly fell in love with Notre Dame when I visited, and I just cannot wait to go!"
Senior Francesca Casalino has dominated the softball field for Hills West.  As the star pitcher for the Colts, she has accepted an offer to play softball for Yale, a university she never thought she would have the opportunity to attend. "Committing to Yale has been a dream come true for me," she stated with excitement. "I never dreamed of attending such a prestigious school, but softball has given me the opportunity and I am determined to make the best of it". While she will not receive any scholarship funds for her athletic skills, as Ivy League schools do not grant athletic scholarships, she is being given an opportunity to attend a renowned academic institution in Yale and receive a stellar education while playing the sport that she loves.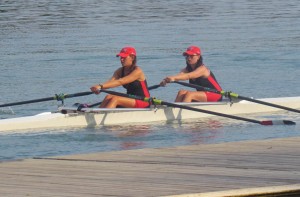 In the water, senior Kim Gillman has established herself as a force to be reckoned with. She recently committed to Cornell to join their excellent rowing program, as well as receive a top tier education. "Choosing to commit to Cornell was an amazing, yet somewhat difficult for me," she explained. "I had to choose between a ton of schools that I really liked, but in the end I am confident with my decision. I can really see myself thriving at Cornell, with their excellent academic and athletic environment".
While some sports, such as baseball, football, and soccer have tiers of competition above the collegiate level, most do not. For many exceptional student athletes at Hills West, the ultimate goal is to be granted the educational opportunities at elite universities.  Showing overwhelming excellence in athletics, as many of Hills West's students have done, is one of the best ways to accomplish this. The school is proud to have fostered the abilities of these and other exceptional athletes who in turn will represent Hills West at the highest levels of their sports at the most prestigious of colleges.