'Tis the season of cold weather. It's time to say goodbye to your T-shirts and light jackets and hello to sweaters and puffy winter coats. With winter approaching, it is important to protect yourself from the brutally low temperatures. Not only do you need to drink some hot chocolate on these cold days, but you also need to dress weather appropriate. Here are some suggestions on what you should wear to stay warm and still look trendy this winter.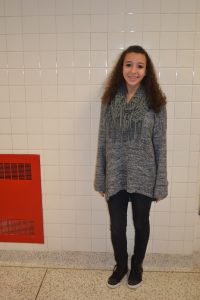 Besides the shivering and teeth chattering, winter is a great season because there are a great variety of clothing options available. Knit sweaters and cardigans keep you warm yet looking trendy. Sophomore Lauren Carubia says, "I love wearing sweaters in the winter because they are comfy and can be worn in many different ways." A popular trend this winter are sweater dresses over tights; not only is this outfit quick and easy to put on, but if you need the extra warmth, you can throw on a pair of high knee socks to complete the look. Another way to stay warm is by wearing layers. You can layer by wearing a basic tee or graphic tee underneath; throwing on a cardigan or flannel; then to finish it off, put on either a puffy, fur, or leather vest. Some layering tips are to try to layer different textures and to try to keep the pieces you are layering monochromatic. Puffy jackets with fur hoods are also ideal to wear since they have a thick, quilted design.
Another way to look fashionable is by accessorizing. The cold winter months allow you to take advantage of the wide selection of accessories to keep you warm. Scarves are essential for warmth and for fashion during winter. Sophomore Danah Han says, "I love scarves because they go well with basically any outfit." Infinity scarves, which are essentially one big circle that you can loop around your neck several times, are my preferred type of scarf this season.  Not only do they add a great touch to any outfit, but the extra layers add extra warmth that other scarves may not provide. Another thing you should wear this winter are knee high socks underneath your boots. They are great since they will keep your legs and feet warm as well as make an outfit look even cuter. You can wear knee high socks by either hiding them in your boot or scrunching them above the top of your boot. "I love leg warmers and high socks because they are easy to throw on and add cute accents and layers to simple outfits" says Junior Stefanie Drinkwater.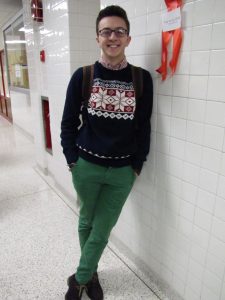 When you go outside this winter, be sure you cover your hands and ears. Texting gloves are convenient in that the material on the fingertips are touchscreen compatible so you can avoid the hassle of taking off your gloves to send a simple text message or a tweet. Knit head wraps, ear muffs, and beanies are also fashionable trends that can protect you from the harsh, bitter wind this winter. Knit head wraps are similar to a headband but instead it is made out of sweater material that covers your ears. Ear Muffs are another convenient option. They even make ear muff headphones that allow you to plug in your phone or iPod to listen to music. Lastly, beanies are are great for covering your whole head, including your ears, and can be found in almost every color to fit your style.
For guys, a popular style trend this winter is the "preppy" look. This simple look can be achieved by layering a V-neck sweater over a plaid collared shirt underneath. By layering different articles of clothing, you can create different styles while staying warm. Flannels are another great choice for the upcoming season, with the ability to dress the outfit up or down. Long sleeve polos and button-up shirts also contribute to the "pretty" style this season; to face the cold winter, you can simply layer a puffer vest over the shirt to keep you warm. While there are a variety of shirt options to keep you warm and fashionable, beanies are also currently a popular trend for guys. With different designs and graphics, you can be sure to find a beanie that suits you best. Finally, the last piece of the outfit is the jacket; whether it is a varsity, utility, wool, peacoat, or leather jacket, the right jacket will complement the outfit well while providing the much needed warmth. Senior Cole Tobias says, "My favorite thing to wear in the winter is a black Guess jacket that I bought on clearance. It's a really nice, simple, yet stylish winter coat. Plus, I got it for really cheap." 
Many of the pieces mentioned above can be found in almost any store this winter. Whether any of these of pieces for both girls or guys are either worn separately or together, they will be sure to keep you warm and cozy this winter, with the added bonus of looking fashionable and trendy.