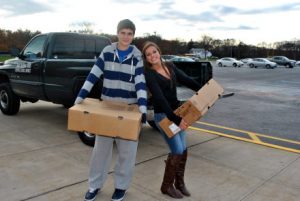 Well ladies and gentlemen, the season we have all been anticipating has finally arrived! This time of the year is not only a countdown to winter break, but it is also a time to gather with friends and family, exchange gifts, and celebrate the blessings the previous year has brought. However, as we welcome December and prepare for the holiday season, it is important to remember those who may not be as fortunate.
During this holiday season,Hills West students have been dedicating much of their time to giving back to the community.
To start off the season, the Interact Club held their Annual Turkey Drive. The objective of the Interact Club is to gather donations for various charity. Every year during the holiday season, the club raises money to purchase and donate turkeys to families who are unable to afford one on Thanksgiving. During this year's Interact Club Annual Turkey Drive, they were able to purchase and donate over 125 turkeys. Each turkey was accompanied by a $25 gift card for the families for any supplies the families needed for the holidays. The turkeys were donated to specific families in our community, churches who know of people in need, and other organizations. "We were also featured on News 12!" club supervisor, Ms. Lislevatn cheerfully mentioned.
Kids Care HHH is a community service organization started and run by students in the Half Hollow Hills district. They have been planning projects both large and small, since 2007. Throughout the years they have organized various projects to help people in need. "On December 3rd, we [went] to Madonna Heights, a homeless shelter, and tried to make the childrens' holiday a little brighter," says senior board member Lexie Forte. Danielle Carley, another member of Kids Care HHH, says, "The holiday party was a hit! We helped the children make snowmen ornaments which they then used to decorate a Christmas tree. After face-painting, tattoos, a holiday snack, and an intense dance party, we distributed presents to every child. Hasbro toys granted us $100 to spend on the event, as well as 100 brand new toys. The childrens' moms, who also received gifts, were so happy to see the smiles on their childrens' faces. I was thrilled to have caused the expressions on each child's face as they opened their presents." As the members of Kids Care HHH were leaving, the children of Madonna Heights watched and waved goodbye through the window. "We promised that we would come back soon," added Carley.
Another project that senior Lexie Forte is working on this season is sending care packages to our soldiers overseas. "My aunt decided it was a great idea to send care packages to our soldiers, so she began sending a box of her cookiemomster cookies and cards every week. I felt it was a great way for me to get involved, so along with my family, we began to make cards and collect various types of treats such as socks, board games, puzzles and more. To add to our pile of cards we even set up a table at Thanksgiving for all my family to create a few [cards]! Since then, my aunt has been sending more and more boxes every week! Were hoping we can put a smile on their faces! It is very important for me to express how much I appreciate them fighting for our protection everyday. This is one of my favorite seasons because there is so much you can do to benefit the people in need!" said Forte.
Hills West senior, Isabella Dana, a member of Kids for Caring at St. Matthews Catholic Church, along with many other students, will also be giving back to the community during this holiday season. "We are going to be singing Christmas carols for the elderly at a nursing home called Our Lady of Consolation. My dad plays the piano for all of us" Dana commented.
Senior Steven Fischer is another honorable student here at Hills West, who is giving back to our community. Fischer has been volunteering at the Dix Hills Fire Department for three years. He began as a junior member two years ago, and has now been a full firefighter for six months. He is responsible for responding to alarms for events such as car accidents, fires, forcible entry calls, and many more. "I do it because I love it," says Fischer. "It is very satisfying knowing that I have the ability to help someone, even if I am heading into the place that everybody else is leaving." When asked about holiday events, Fischer responded, "My favorite part of the holiday season is when we drive around the district with Santa." As for future plans, "I definitely plan to keep volunteering. I will be an EMT (Emergency Medical Technician) in six months, where I will be able to handle rescue (medical) calls," he added.
Hills West Key Club, known for their outstanding volunteer work around the community, will also be giving back in many ways during this holiday season. One event Key Club participated in is Toys for Tots. Throughout December, they collected toys for children whose parents were unable to afford toys for the holidays. "Every Key Club member was expected to bring in one toy, and we also encouraged more people throughout the school to donate as well!" says Key Club President, Monica Hanna. In addition to Toys for Tots, Key Club also partook in the Pillow Foundation. "We collected money during parent teacher conferences, and raised $800," Hanna joyfully expressed. For every $5 raised, a child in the hospital received a "pillow with arms" to hug. "It is really just something to make them smile," she added. Another charitable event Key Club was involved with this season was Helping Hands. They sponsored children in families within Huntington that were in need of a few things for the holidays. "We received a list of items that they requested, for example gloves or scarves, and each member was responsible for purchasing that item for them," explains Hanna. The last event Key Club participated in was Sears Shopping. On Saturday, December 14, a few members were assigned to one child and they were able to walk around the store with the kids, picking out and trying on necessities such as jackets and other winter essentials. Sears generously donated $150 per child, which allowed them to pick out "something extra," including toys. After each child chose what they desired, Key Club brought the items to Candlewood Middle School and wrapped them up, which made the gift receiving experience even more special for the kids. "Students found it difficult to part with the children after such a heartwarming experience," revealed Key Club supervisor, Mrs. Madden. It was a very eventful, and unbelievably successful holiday season for the Hills West Key Club.
To those who have chosen to give back during this holiday season, Hills West as well as the community admires your kindness and generosity. The Hills West Roundup wishes everyone a joyful and safe holiday season! Remember, it is never too late to help others. Happy Holidays!