The brilliance of The Hunger Games had everyone eager for its sequel, Catching Fire. It became evident just how highly anticipated Catching Fire was when the movie earned $161 million on its opening weekend alone.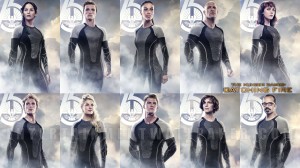 The Hunger Games: Catching Fire sends us upon the tale of Katniss Everdeen (Jennifer Lawrence) and Peeta Mellark (Josh Hutcherson) as they embark on the Victor's Tour after the 74th Hunger Games. As they visit each district, Katniss senses the beginning of a rebellion. To remain in control, the Capitol prepares for the Quarter Quell, a special 75th annual Hunger Games. Survivors of previous Hunger Games are to fight for their lives again.
With the immense popularity of the books, readers expected nothing less from the movies. Accompanied by a brilliant story plot, the casting of the Hunger Games trilogy ceased to disappoint readers' imaginations and expectations. Jennifer Lawrence's connection with the audience brings alive a new dimension to the original story with her ability to embody and symbolize the character of Katniss Everdeen. Josh Hutchinson's acting portrays the image of Peeta Mellark just as many would imagine him to be in the books; with his ability to portray compassion and devotion to Katniss his determination and strength, Hutchinson easily captures the attention of the audience.
The setting of the 75th Hunger Games Arena was shot in the North Shore Bay in Hawaii. In addition to the effective scouting, the CGIs and editing in this movie enhanced the realism of the scenes. The soundtrack provided an intense background for the movie. It was low-key and played at appropriate times.
 The Hunger Games trilogy is something avid Harry Potter fans can now look forward to. The two series' are both take place in a fantasy-like world and fans can find the action-packed drama Harry Potter provided in The Hunger Games as well. The novels written by Suzanne Collins are descriptive and fantastic themselves, and the acting, design, editing, and more of all the movies only elevate The Hunger Games trilogy.