With this year's fall drama just several weeks away, Theater West is working hard to tie up loose ends.
Stage crew is beginning to sort through the loads of clothes for the perfect costume for each actor. The freshmen, who are in charge of the costumes, have been doing a great job sorting, fitting, and searching for costumes for all the actors. In the upcoming weeks, the actors will be rehearsing in their costumes to get comfortable and ready for their performances. The actors are becoming more comfortable with their characters as they develop their characters' personalities. It is important for these actors to be familiar with how their characters talk, walk, and act.
In addition to costume design, stage crew will be working to create an intricate and detailed set, such as by adding ridges to the furniture and texture to the patio wall to create a realistic effect. With the set starting to come together, the actors have been able to use actual actual wooden benches, rather than music stands and metal folding chairs on set. It is imperative that the actors can adapt to the actual set in order to prepare for the night of the performance.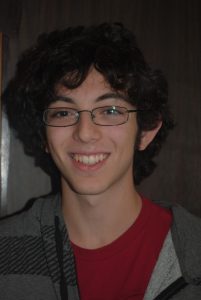 Actor Jason Zelamsky, who plays George Kittredge in the play, has noticed the hard work and dedication by the actors. "I'm really proud of my fellow cast mates for really pulling this show together," Zelamsky commented, "The chemistry between the actors and their characters is almost effortless. I'm also impressed by the newcomers!" Jason is also thankful for Mrs. Ievolo and Miss Kelly's directions. "Mrs. Ievolo has done a great job with working within the time restraints as well as giving us helpful advice to help build our characters. Miss Kelly has also been a great help, as she knows just what a moment or interaction needs to be just right," Zelamsky adds.
Don't forget to see your fellow classmates star  in "Philadelphia Story" on November 8th and 9th. As Jason says it, "this will be a drama to remember!"