Having come off of a tough loss to North Babylon by one point, Hills West needed a win on Saturday last Saturday against Bay Shore. Both Hills West and Bay Shore entered Saturdays contest with a record of 1 win and 1 loss.
Hills West struck first with a 65 yard touchdown pass from quarter back Anthony Lucarelli to wide receiver, Joshua Connor. Kicker Arthur Bosua kicked the extra point and gave the Colts an early 7-0 lead. Unfortunately, the Colts did not score again for the rest of the first quarter.
In the second quarter Bay Shore answered back with 7 points of their own as running back Simeon Eato ran for a 5 yard touchdown and their kicker, Matt Smith successfully kicked the extra point. West then took the lead back with a 6 yard touchdown pass, in which Lucarelli connected with Joe Cipoletti. Bosua hit his extra point again and West was up 14-7.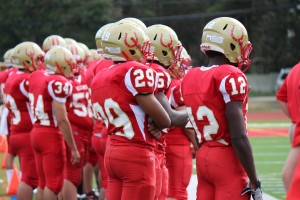 After Hills West went up 14-7, Bay Shore proceeded to score three unanswered touchdowns. Bay Shore returned a punt 65 yards for a touchdown and Smith hit the extra point to tie the game up. Jaquan Moore of Bayshore put up the first points of the third quarter with a 62 yard touchdown run. Bayshore continued their attack with a 13 yard touchdown pass, but the kicker for Bay Shore missed one of his 2 extra points giving Bay Shore a comfortable 13 point lead over West.
Before the third quarter was over, Lucarelli connected with Joshua Connor for another touchdown, and Bosua hit another point, leaving West down by 6. With just 1:12 remaining in the game, Hills West running back Ray Lyte ran for a 23 yard touchdown, and Bosua again hit an extra point. West now found themselves up by one point with a 28-27 lead.
On what would be the game winning drive, Bayshore threw down the field, eventually winning on a successful field goal attempt. This was a truly upsetting loss of the Colts, but it was an excellent game and the Colts looked strong throughout.