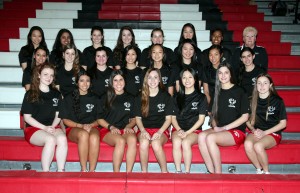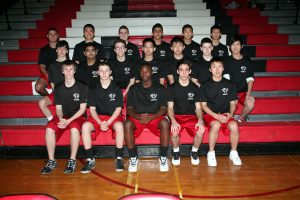 There are very few teams that get overlooked the way the Hills Varsity Badminton team does. Quietly practicing in the Hills East gym every day after school, this West – East tandem squad is one of the dominant teams in the county.
The team, led by Mrs. Albert, is separated into boys and girls. For singles, the boys are led by James Kuo, a Hills East senior, and Alfred Shim, a Hills West junior. The girls are led by Leyna Rosen, a West junior, and Christie LoMonaco, a West senior. In doubles, the boys are led by West juniors John Stannis and Jason Scheingold, and the girls are led by Carly Cordano, an East junior, and Gina Augusta, a West senior. Both the girls and boys have been featured in Newsday's Top 10 Long Island High School Teams, whether being in their "On the outside looking in" section or in their prestigious "Top Ten."
The girls have a season record of 14-0, and an unbeaten streak of 55 games, dating back to 2010 season. They also are the league champions, defeating Smithtown East, 9-0. The girl's winning streak is one of the best on Long Island, and is a major focus on sites such as MSG Varsity. Both teams have enjoyed victories of major magnitudes. On the subject of the team's recent victories, West junior Jack Luo said, "I'm incredibly proud of my team and how they performed. It's really a team effort, especially when everyone goes out there and plays their hardest."
The boys also have a stellar record of 12-2. They finished their season with a 5-4 victory against Smithtown East, a victory that won them the league title. "John Stanis and Jason Scheingold are the best doubles team on Long Island. They always know how to work off of each other and work as a team. They have helped our team win many matches this season and they will be back at it again next year," explained senior Vishnu Nagaraj.
In addition to winning the League Championships, both the boys and girls teams prevailed in the Suffolk County Championships, marking the first time both teams have succeeded in claiming both titles. The girls defeated Smithtown West, 7-2, to win their fourth County Championship since 2010 while the boys won a tight match, with a final score of 5-4.