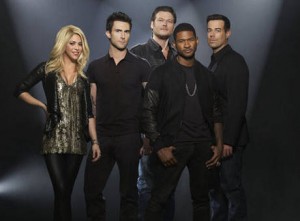 In June 2002, a little-known vocal talent show called American Idol debuted to the world.  After the first season that small singing competition became a worldwide phenomenon, breeding stars such as Kelly Clarkson and Carrie Underwood.  Now in the middle of its 12th season, American Idol has created a proving ground for other music shows to follow, one of them being NBC's The Voice.  Debuting in 2011 and now in the middle of its 4th season, The Voice relies  only on a singer's voice as the driving force for their advancement in the competition, accomplished via blind auditions.
In the latest season of The Voice, original judges Christina Aguilera and Cee-Lo Green were replaced by artists Shakira and Usher, joining the remaining two, Maroon 5's Adam Levine and country singer Blake Shelton.  As the show progresses, it continues to rack up a new following.  When the new season of the Voice premiered on March 25, it received a rating of 4.7 which beat all of the Idol's telecasts after January.
The process to be on the blind auditions for the Voice is a rigorous process, unlike American Idol in which anyone with minimal talent can go and try out to be on the show.  One of Hills West's own Brianna Robinson was willing to share her story on her audition experience: "I tried out at the open call in New York last July, and was given a callback. After those, they flew me out to LA for one final audition, after which I was cast for season 4 of the voice. There were four days of auditions and unfortunately, about 20 out of the 120 (including me) did not get to perform our blind auditions for the judges because the teams filled up. Nevertheless, it was an amazing experience, all of the contestants and producers are so sweet, and it's truly the most talented season yet." Through new judges and new contestants, combined with the innovative auditioning style, The Voice continues to persevere in its hopes of becoming as world-renowned as American Idol.