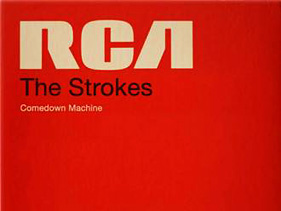 The new album 'Comedown Machine' by the alternative rock band The Strokes was released March 26th. This is the 5th studio album by the band and the last of their long contract with RCA records. This album features an entirely new sound compared to what fans of the group are used to hearing. The album presents a sound that relates much more to the new wave of alternative rock rather than their classic throwback sound reminiscent of the music of the 90's.
The album is composed of eleven tracks that each showcase their own individual brilliance. From the fast pop tune "One Way Trigger" to punk jam "50/50," all the way to the 1980's tribute and slow ballad "Partners in Crime," the album crafts a narrative that unites the entire work with these vastly varied individual tracks. In recent years, The Strokes' music was mainly composed by frontman and lead singer, Julian Casablancas. This album is more of a collaboration between the five members. Their previous album, 'Angles,' was recorded by each member separately and put together in a studio. However, 'Comedown Machine' was recorded with all members present.
This author highly recommends this album to any Strokes fans, indie music lovers, or just someone who is looking for some new music to listen to.