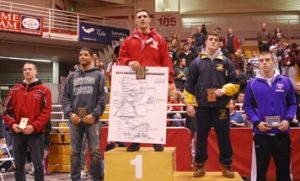 Over the weekend, Hills West senior Tyler Grimaldi took the New York State wrestling title for the 160-pound weight class. Tyler's journey to Albany was not easy. After facing opponents from around New York State, he finally defeated Steven Schneider, a student from Macarthur High School in Levittown, by a score of 9-3. On winning the title, Tyler claimed that "This is what we worked five years for…We made it." Grimaldi set a new Hills West mark for most career wins and he finished the season with a 49-2 record. He will be taking his wrestling talents to Harvard at the beginning of the 2013 school year.
Category: Colts Sports, School News, Sports, Wrestling
Reilly's Rants are opinion based and reflect his and only his opinions and not those of the remaining staff of the Hills West Roundup.