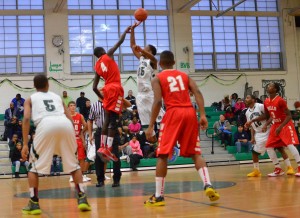 This past week the Varsity Basketball players, along with the school administrators, have been hyping up this quarterfinal playoff game between 2-seed Brentwood and our 7th seed squad. To say this game lived up to this hype would be a huge understatement.
The first quarter ended with Brentwood at a slight lead, but early in the second quarter Senior Marcus Solomon drained a three to put West up 19-18, but soon after a string of turnovers made the score 30-19 Brentwood, and the seeds of a potential blowout were being planted. But the Colts scratched away at the lead, entering the locker room down only six at halftime.
At the start of the third quarter, Solomon drained a three, and Junior Terry Harris and Senior Neneyo Mate-Kole capitalized on some sloppy Brentwood play. In the middle of the quarter Senior Dylan Harlem and Harris hit back-to-back threes, giving West a 49-46 lead. By the end of the third it was a new game, 51-51.
West showed up for the first part of the fourth, taking a 9 point lead and looking like it was going to seal a spot in the semi-finals. But Brentwood made some free-throws on a few arguable foul calls, and with 1:51 left the game was  tied, this time at 62-62. For the next two minutes the most intense basketball was played in the history of high school basketball, with the lead constantly shifting, especially when Senior Jamir Blackmon converted the and-1 and finally, with only a few seconds on the clock, Solomon made a big shot to tie the game.
The intensity was only rising in overtime, with fans on both sides standing up to support their team. After the Colts gave up a few points off turnovers, Solomon got fouled behind the 3-pt line and impressively hit all three shots, giving him 25 for the game. But with less than a minute left the refs made a bad call on an out-of-bounds turnover, giving Brentwood the ball, and unfortunately the game, at a final score of 76-73.
As the buzzer rang, the Colts walked away with their heads held high after playing 44 minutes of insane and edge-of-the-seat basketball. Despite not advancing to the next round, the Colts made Hills West proud.
The game will be shown on MSG Varsity (ch. 14) this Friday at 9:30 PM.