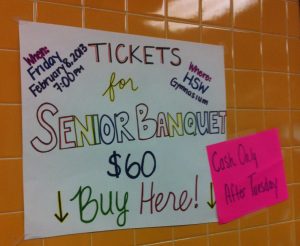 From Hurricane Sandy to freezing winds, the weather during the 2012-2013 school year certainly hasn't been benevolent; the upcoming inclement winter weather also compelled High School West administrators to postpone the long-awaited and highly anticipated senior banquet.
In the days prior to making the decision, Mr Bongino, the 10th grade administrator, stated, "High School West administration is closely watching the weather to make an educated and well-informed decision whether to postpone Senior Banquet. We are looking into other dates in order to reschedule and have the seniors not lose out on any of the experiences."
The anticipated winter snow storm caused concern for administrators, who made an early decision in order to inform the caterers and other event suppliers. "Rather than endangering students, it is better to be safe than sorry," commented Mr. Maroney.
While many students may be disappointed in hearing of the postponement, others are eager to escape the stress involved in preparing for the banquet.  "I am relieved because I still didn't get a dress yet; however, some might be angry because they've been looking forward to it," explained senior Hana Park.
While the question of the new date of senior banquet remains up in the air, preparations are already being made. Senior superlatives will still be announced at the senior banquet at this later date.