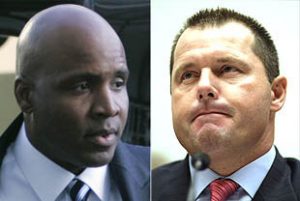 On January 9th, 2013, one of the biggest decisions in baseball history will be made. No, it is not the seventh game of a series, or a blockbuster trade, but the results of the 2013 Hall of Fame Ballot. Just like last year, the retired greats are announced, the votes (submitted by baseball writers) are tallied, and the new members of the Hall of Fame are announced. But this year, the entire sports world will be focused on it, because one of the most divisive issues in sports is making its way to the Hall of Fame.
This year, players such as Roger Clemens, Sammy Sosa, and Barry Bonds will appear on the ballot for the first time. If one were to look at only their career statistics, the trio would be a shoe-in. Based purely on statistics, these three players could be considered some of the best to ever play the game. But these players' greatness on the field will ultimately not be the deciding factor. The deciding factor is their decisions made off the field.
Clemens, Bonds, and Sosa all have a major blemish on their flawless careers. They were all accused of using steroids. Some were more aggressively accused than others. Clemens had numerous members of the Yankee organization claim he spoke to them about steroids. Within the Mitchell Report, a government report concerning performance-enhancing drugs, Clemens' name is mentioned 82 times. To this day, even though everything seems to point to drugs, Roger "Rocket" Clemens has denied using them. In addition, Bonds admitted to steroid usage, claiming he used a certain cream not knowing it was steroids. Further, Sosa nearly faced a perjury investigation from Congress. He was also found using a corked bat during one of the games in his career, but claimed he accidentally used a batting practice bat.
Knowing what we know about these players, the question has arisen, do we allow them into the Hall of Fame? The answer is not clear. Some say that steroids are so rampant in professional sports, that the crimes these players committed will not seem so severe in time. Others say that these players are cheaters, and should share a fate similar to Pete Rose (banned from the Hall of Fame for gambling).
If the Hall of Fame voters had the best interest of Major League Baseball in mind, they would have never let these players get close to the Hall of Fame. The decision made here will set the precedent for more than just the Hall of Fame.  If these players are allowed in, sponsors will continue to be given to players that cheat at their sports. The most damage will be done to young athletes, who will see the success of a player that has used steroids and see a (not so) golden opportunity. To put this conflict in perspective, one can look at the recent events with Lance Armstrong and the U.S. Anti-Doping Agency (USADA). Because of his decisions throughout his cycling career, Armstrong was stripped of all titles he won during the suspected period of steroid consumption. If this was done to someone such as Barry Bonds, baseball would once again have Hank Aaron as their home run king.  Further, baseball is a game of tradition. Players currently in the Hall of Fame do not have steroid allegations associated with them. Why should the new members be any different?
Players like Bonds, Clemens, and Sosa did not make their decisions for no reason. They used their inflated stats to secure large contracts, well-paying endorsers, and international fame. It seems as if now they will meet the repercussions of these actions. The Associated Press surveyed some of the Hall of Fame voters, and it seems that Bonds, Sosa, and Clemens will not make it "this year."  It is interesting to note that these players will not make it "this year," as the players maintain their shot at the Hall for another 15 years.  When one of the aforementioned players finally leaves the ballot, without a chance for redemption, baseball will have truly won, setting a hallmark for the Hall of Fame.