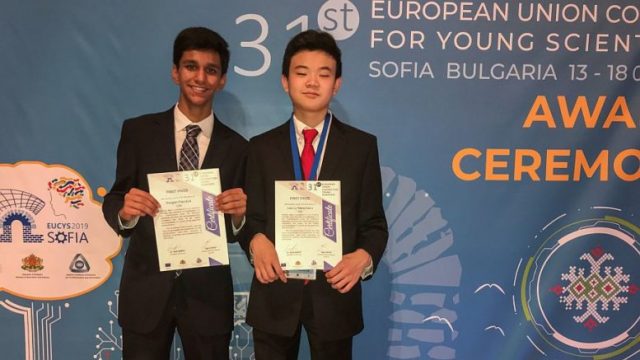 Representing not only Hills West but all of the United States, in a tough, high-end research competition, Poojan Pandya, a Hills West senior, traveled to Bulgaria this past September receiving first place in the EUCYS; European Union Contest for Young Scientists. 
Poojan Pandya is among the top in his class, currently enrolled in classes such as AP Calc BC, Physics C, AP Computer Science Principles, AP Economy, Research and more… so much for taking an easy senior year! However, it was through this seemingly torturous schedule that Poojan adapted a love for science and research, stating that the beauty of "creating new knowledge is very fulfilling" for him. At only 17 years old, Poojan participated in the ISEF (International Science and Engineering Fair) in Phoenix, Arizona, winning the best in his category of microbiology and $4000 with it. This win catapulted him into being granted the opportunity to travel to Sofia, Bulgaria this past September 11-18 to further his scientific research abilities at the EUCYS. This highly prestigious science fair is watched by people globally, and judged by the most intelligent science researchers worldwide.
Poojan and his partner, Leo Takemaru, also from Long Island, roomed together and were both put to the test to represent the entire United States during their extensive research. The boys focused their microbiology studies on the protein CCDC11 in relation to HIV. Through their research, they discovered that the CCDC11 protein is required for HIV viral budding, and inhibiting this protein may be beneficial for antiviral therapy against HIV. They were required to make an extensive poster board, present their ideas and answer to five judges, all over the course of three days. With the success in their research, the boys won first place in their category of microbiology, earning $4000 each.
Despite the glorious sensation stemming from this victory, Poojan points out that his favorite part was meeting new people from different countries and being able to connect with them via their shared common passion for science. Although he emphasizes the extraordinary aspects of this experience, Poojan's least favorite part was the relatively unorganized judging. Instead of receiving five judges over the course of three days, he and Leo got all five judges on one day making the day much more chaotic than the others. 
Feeling grateful for this opportunity, Poojan advises young aspiring science researchers to "keep in mind that science often requires being creative more than you think." This victory was an immense success for Poojan and Leo because their work as young scientists could really change the world one day, saving many people's lives with further development of their research.