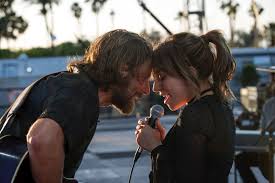 The year of 2018 is known for many of its blockbusting movies, like Jurassic World: Fallen Kingdom, Incredibles 2, Avengers: Infinity War, and soon to be; A Star is Born. This movie is set to be the fifth installment of the franchise.
   A Star is Born is an American drama movie filled with romance and music, directed and produced by Bradley Cooper. Starring in this movie is the grammy-winning, Lady Gaga, portraying the main female role of Ally Campana, and the main male role of Jackson Maine, is played by Bradley Cooper. In the movie, musician and songwriter, Jackson Maine, discovers and falls in love with a struggling singer, Ally Campana. Wishing to be a successful singer one day, she performs at a bar where she met Jackson. Upon knowing each other for barely any time, Jackson coaxes Ally into the spotlight during one of his concerts that he invited her to, and from there, Ally's career began, and so did their relationship. Throughout their relationship, problems arised due to Jackson's ongoing problems being an alcoholic and drug-user, and those problems began to put a strain on their relationship and careers.
When it comes to the music of the movie, the songs were as well made as the movie. Their most famous songs from their soundtrack is "Shallow", which is sung by Lady Gaga and Bradley Cooper, and the song "Always Remember Us This Way", which is sung by Lady Gaga. The soundtrack had taken the number one spot on the Billboard 200, and 231,000 physical and digital copies were sold.
This movie has been rated a 8.4/10 from IMDb, a 90/100 from Rotten Tomatoes, and a 88/100 from Metacritic. My opinion on this movie is that it contained such talented actors and actresses, and I would have never believed that Lady Gaga would have done such a good job acting. I also wouldn't have thought that Bradley Cooper was going to have such a beautiful voice. I applaud the makers of this installment of this movie, and I am also amazed by what a good soundtrack this movie has given us. A fellow High School West sophomore student said, "A Star is Born was a great movie. It had an amazing soundtrack and the story was very intriguing."
I hope that this movie will receive many awards, and that it does well in the box office. So far it has made an estimate of $201.1 million dollars with a budget of $36–40 million dollars, which can be compared to the fourth installment of this movie franchise, which made an estimated amount of $80 million dollars.