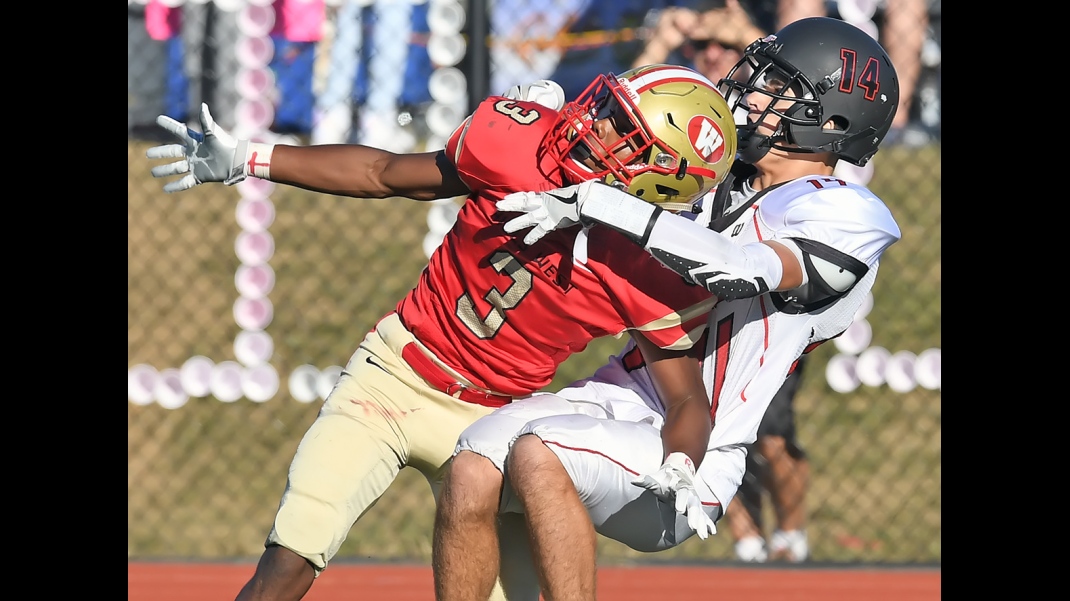 Unfortunately, the Colts' season came to an end last Saturday as they lost to Westhampton Beach, 28-14 in the Suffolk County division 3 championship game. Westhampton's running back, Dylan Laube, ran 28 times for 185 yards and all 4 of their touchdowns, leading their team to the Long Island Championship game.  After yet another impressive season for the Colts, I caught up with Coach Madden for my final interview of the season.
I know you guys came up a little bit short of the ultimate goal this year. That being said, you still must be pleased with the team making it to another Suffolk County Championship game. What are you most proud of in terms of what this group had accomplished this season?
I am most proud of the 5 game winning streak. Since the Sayville game the kids really bought in and went on a really great run for those 5 weeks and just fell a little bit short in the end.
What was your immediate reaction after the loss? What did you say to your players?
I thanked the seniors for all of their hard work; some of them were at the Suffolk County Championship game for 4 years, which is an unbelievable accomplishment. Players like Jimmy Regateiro were there for 4 straight games and I talked to the underclassmen about how you get this one opportunity and next year, starting with the offseason and summer workouts, they're going to have to continue to work hard. Getting to those Suffolk County Championships doesn't just happen, it takes a lot of hard work and sacrifice.
You must mentioned the underclassmen. Is there anything  that the underclassmen can take into next season from their experience this season?
It is important but some of it is a burden. Some of the kids are familiar with going to these big games but they have to understand that it's not easy and we as a team are starting over and moving into the next season. We'll have our dinner on December 12th and from there we'll start rallying everyone together and get next years team formulated. It's all about putting together the right team every single year and just because we made it last year doesn't mean that we are guaranteed to make it the following year.
You say goodbye to your captains, Jimmy Regateiro, Brandon Francis, and Cherrod White. How difficult will it be to fill that void and do you have any early indications as to who will step into that role next season?
Overall we're a very young team, and we didn't really have a ton of starting seniors besides the few you mentioned, but the program is built for us to be back next year and now it's up to these underclassmen to follow the process and hopefully we'll be back.
You've clearly established a winning culture here at Hills West throughout your tenure as head coach. You were able to avenge an early season loss to Sayville by beating them in the semi finals but weren't able to due so against Westhampton. Why do you think that was? Was it a matter of execution or did they just have better personnel?
There were definitely some execution problems. Westhampton made more plays then us. They have arguably the best player on Long Island, who was clearly the best player in that game. We had our opportunity to tackle him multiple times but we just couldn't do it. We had opportunities to score on multiple possessions but we just couldn't capitalize. That's the difference between a win and a loss, usually about 5 plays.
Thank you for doing these interviews with me all season. I really appreciate it. I'll see you next year for another great season. 
I want to thank all of the readers of the "Coaches Corner with Coach Madden". Be sure to continue following Hills West sports on all of our Hills West Media outlets. Check out the hillswestroundup.com, our social media accounts, and our sports podcast, The Colts' Corner Podcast, to stay in touch with everything involving Hills West. Thank you and enjoy the rest of the year!
Douglas Lattuca