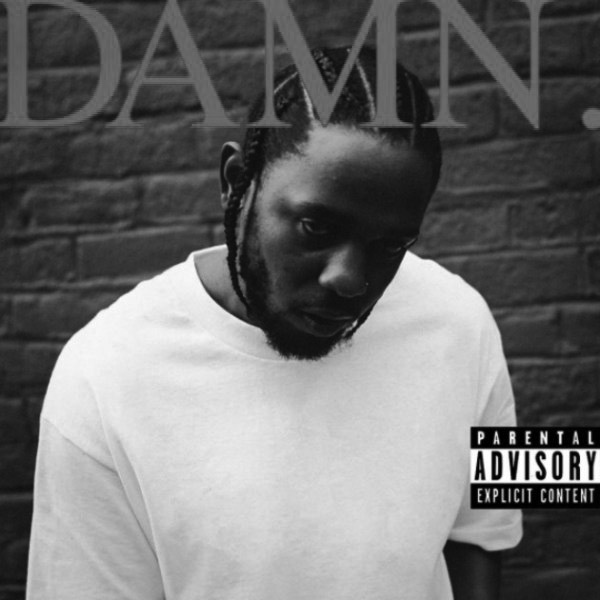 Kendrick Lamar, a Compton rapper, recently released his third full length album,  DAMN. If you are a fan of Kendrick Lamar, like I am, you'd probably have high expectations for this album, especially after Kendrick's release of his second album, To Pimp A Butterfly, which was a work of art, covering topics of racism, politics, and religion. DAMN. takes a straight forward aggressive approach that feels like an episodic piece of work about Kendrick's personal problems and philosophies.
DAMN. consists of 14 tracks in a span of 55 minutes. If you were wondering what I meant by an "episodic piece of work," listen to the first six tracks. "DNA" is the opening track on the album, and it definitely starts off with a bang. It is one of the most popular songs on the album so far, with many students claiming that "DNA is one of the best songs on the album." Kendrick starts off by celebrating his "DNA" or African American Heritage, and challenging the people who oppress it. Kendrick is also furious about how his music is misunderstood, sampling a FOX News clip where Geraldo Rivera criticizes lyrics from the song "Alright" on Kendrick's previous album. "DNA" has arguably the best production on the album with incredible sampling, a beautiful beat transition, and it is perfectly used for Kendrick Lamar's tone in the song. Although the lyrics don't have a main story, there are still many amazing lines. "I love it when he says Antisocial extrovert, it's an amazing oxymoron," said Sophomore Evan Baker.
"ELEMENT" is a story of Kendrick Lamar's life, including the sacrifices he had to make in order to stand where he is today. Kendrick notably asserts his dominance in the rap industry with lines like "I got 'em by a landslide, we talkin' about races. You know this'll never be a tie, just look at their laces." The classic sounding beat with a modern element produced by Ricci Riera  provides an astounding track on this album.
"FEEL," the next song on the album is one of the most bipolar, emotional  songs Kendrick has created. Using the constant repetition of "Feel like," this anaphora is similar to Martin Luther King's "I Have a Dream" speech. Kendrick explains a large amount of his feelings which are for the most part negative. His emotions are all over the place during this song, speaking about many topics of his life like, self-isolation, problems with the rap industry, and, emotional and spiritual struggles. This song is one of my favorites, for its raw emotion and constant flow.
"PRIDE" follows through Kendrick's religious theme on this album, with a moody, and eerie sound to it. This song isn't one of the most memorable songs on the album, but it is definitely not a bad song. The production is beautiful, using a sample from the teaser track for the album "The Heart Part 4."  The vocals by Steve Lacy, Anna Wise and of course Kendrick Lamar, blend perfectly together. This song may not be as popular as others on this project, but it is still a well composed and produced song. It also explains Kendricks thoughts of a perfect world, mentioning all of his insecurities disappearing. Upon asked the question of how he feels about this track, Junior, Jordan Hardy explained "Pride is one of my favorite songs on the album, because Kendrick explains how if we lived in a perfect world nobody would have any insecurities about themselves and nobody could make mistakes." "LUST" and "LOVE" tell a story of a "rap star" lifestyle. In "LUST" Kendrick explains the sexual centralism in his new wealthy lifestyle that he does not enjoy. At first I did not enjoy this song, being that it was slow and seemed repetitive to me. The more I listened the more I started to love the song. It is beautifully written and surprisingly, really enjoyable. "LOVE" is the opposite of "LUST." Kendrick raps about his long lasting relationship with his fiancé, that he has been with since he has been in high school. This song is just as beautiful as "LUST," with Zacari's amazing vocals, but Kendrick's vocals are slightly dull. "LOVE" also transitions well into one of my favorite tracks, "XXX". I recommend this song to everyone. This song addresses many issues by having what sounds like three songs in one. The first part of "XXX" justifies the saying "nobody is perfect," mentioning that the best of people are still capable of evil. He also mentions his advice for a friend, after the death of his son. The second part has a similar theme to "PRIDE," but with a harsh angry approach. The third part includes an appearance from U2. This song is amazing, showing the perfect way to transition between beats and emotions.
The longest track on the album "FEAR" goes through some of Kendrick's most terrifying instances during the ages of 7, 17 and 27.  This song is very emotional and is worth listening through the whole 7 minutes of it.
"DUCKWORTH" is the last song on the album, and is lyrically one of the best. Kendrick tells a story of an incident that could have changed his life. This song is a masterpiece in my opinion and is one of my favorites on the album.
DAMN. became a certified PLATINUM album on May 4th and is on its way to set more records. I can easily see some of the songs on this album becoming classics. Congratulations to Kendrick Lamar, for creating yet another great album.