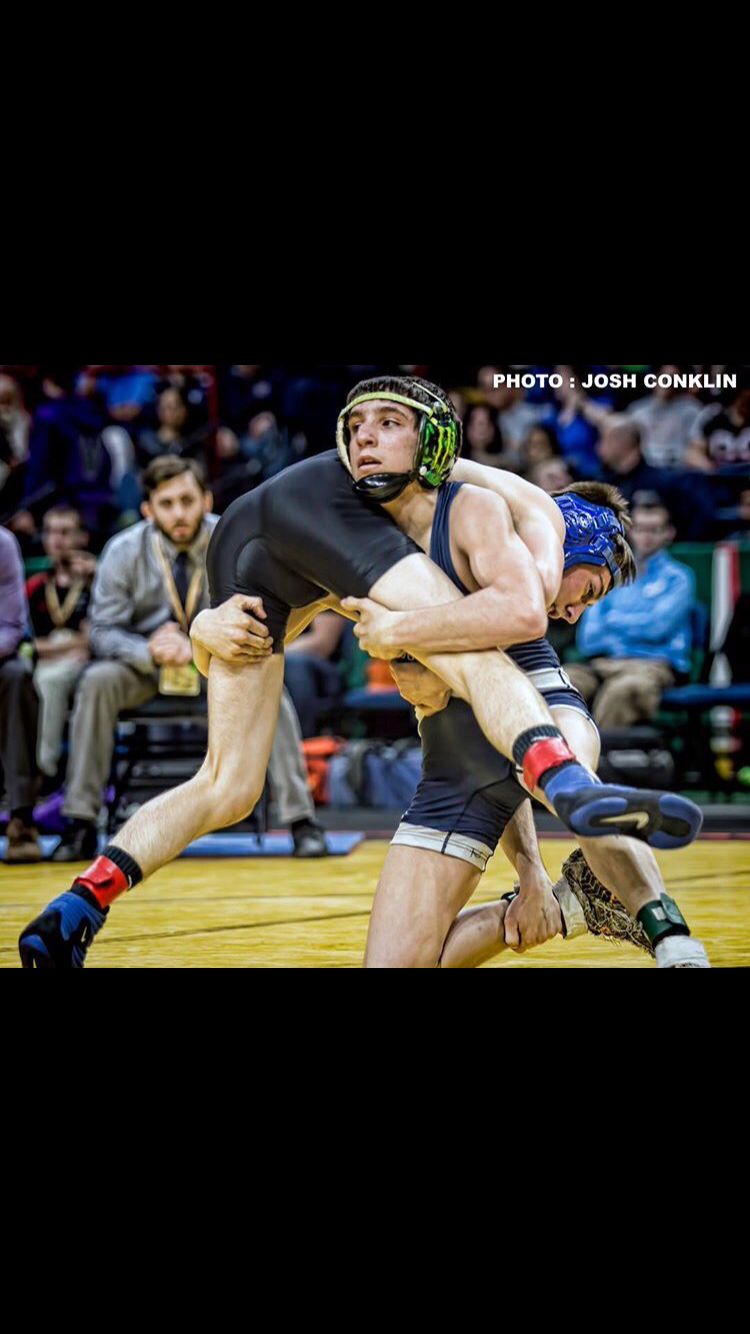 ---
The 2016-2017 Wrestling team was the first in school history to win a league title. This isn't surprising considering eleven members of the team competed in counties on February 11th and 12th at Suffolk Community College. However, only one of them was able to not only advance to the State tournament, but also win it as well: Dylan Ryder.
Dylan faced immediate adversity as he tore his ACL freshman year, and had to have surgery. However, he pushed through it and underwent an intense rehab session that got him ready for the 2015-16 season. This was when he really displayed what he was capable of as he won the Suffolk County championship and finished second in the state finals. When asked what he was able to take away from that experience he said, "It just made me more motivated to work harder and accomplish my goal this year of becoming a state champion."
After the team came up just short of a league title last year head coach, Joesph Shultz, really stressed that goal all throughout the season. They got behind the motto "SUFU", which stands for start unknown finish unforgettable. This was a saying that Dylan and other members of the team rallied around. When asked if the team was able to feed off of each other and personally motivate other players through his play he responded with, "I Helped motivate my team to become league champions and made everyone work harder in the room… I was happy the team came together to win a league title."
By the time counties came around Dylan was in peak condition and entered with a 36-1 record. The only person he lost to was Eastport South Manor's Zach Redding who ironically, faced off against for the Suffolk County championship. He dominated beating the freshman 3-0 and secured a place in the state tournament. Asked if there was anything specifically he did to prepare him for this situation he said, "Last summer I wrestled in national tournaments across the United States which really helped me with my preparation."
The state tournament was held at The Times Union Center in Albany New York, on February 23th and 24th. After ending up second last year he left everything he had on the mat and ended up capturing the elusive first place finish. It was clear that Dylan didn't want to stop there as next year his goals are to become a 3x Suffolk County champion and a 2x New York State champion.
As Dylan looks forward to his senior year, it's not hard to see him accomplish all of these goals and push the boundaries of the sport. In addition to that his influence on the younger members of the team is extremely valuable, and hopefully they can continue to build on this winning culture that has been created.