January- it's one of the saddest months in fashion. After all the sparkle and glamour of the holidays, January is just boring. Stores haven't restocked, glitter is an eyesore, and it's so cold people get lazy with clothing. There just isn't anything special. Whatever happened to new year, new me? What better way to start off a new year than with new trends and clothes? Well, that's probably just me, but I know there are people who want to make January just the slightest bit more fashionable and exciting. So below are my top ten ways to start off the new fashion year.
Am I the only one who noticed stores featuring activewear lately? Maybe it's just taking advantage of the popular new year's resolution to "workout" but it's new and it's cute. In January, I'm not that picky. Stores like Bloomingdales recently featured activewear collections, so check it out! Leggings are comfy and easy to wear… perfect for January.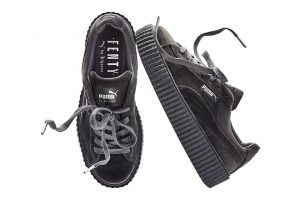 2. After the holidays, stores are trying to sell the rest of the December collection to stock the new winter clothes and "cruise" or "resort" lines. This means that shirt you wanted for Christmas and didn't get? Probably on sale. As for the rest of the December clothes, some "holiday" trends can easily transfer over to January. Take velvet for example. Velvet hoodies and Fenty Pumas are still cute after Christmas.
3. One major way to make January feel more stylish is mastering layering. In december, the more layers the better. The busier looks perfectly match the hectic feel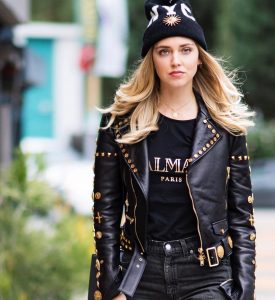 of the season. So for January, I like to make outfits feel more clean, fresh and simple. Chiara Ferragni does this perfectly. As I mentioned before, after the holidays glitter can be too overdone. I like to keep makeup more simple too.
4. It's January and that means cute sweaters. New Wildfox collection, where are you?
5. Try focusing an outfit on the shoes like fashion blogger Dressed For Dreams. Last year, over the knee boots were a must-have for every celebrity.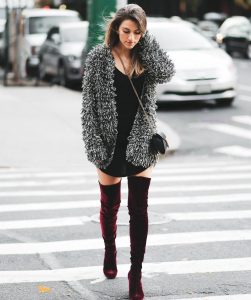 The statement shoe looks to be staying in style. Play around with embroidery, color and texture for January. At High School West, sneakers are the go to, and personally, I love all the different styles people have. Ash, Adidas, Nike, Steve Madden, and Superga are the most popular.
6. Branded shirts are taking over Instagram! While celebrities may be loving this Gucci T-shirt, these Adidas ones are just as trendy. Tour merchandise, similarly makes the perfect look.
7. PUFFER JACKETS! It's winter- need I say more?
8. "Raindrop, drop top… fishnets and a crop top," Oh LF, you are so right! The fishnets under jeans look will definitely get you Instagram likes.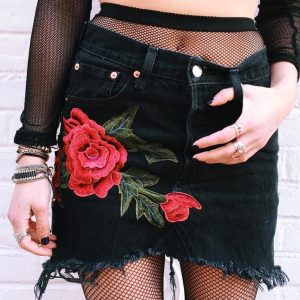 9. The statement jacket is an item that looks like it will stay popular in 2017. Whether it's that cute bomber jacket, leather jacket or denim jacket, embroidery makes everything look great!
10. Whatever you wear, own it! Nothing is better than starting a new year off confident. Happy New Year!