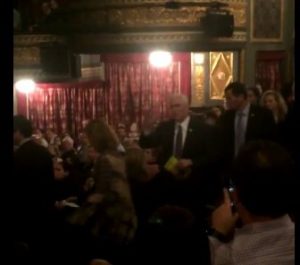 On Friday, November 18th, Mike Pence, the Vice President-elect, went to see the renowned Broadway musical with his family. As he walked in, he was met with a mixed response. Some people cheered while most others booed. During the play, the audience acted as an average audience would be expected to act. The crowd cheered especially at the line "immigrants, we get the job done," no doubt taking the line out of the context of the play to refer to Donald Trump's — Mike Pence's running mate's –promise to crack down on illegal immigration and deport eleven million illegal immigrants. The crowd also booed and jeered at Trump during the song "What Come's Next," inappropriately encouraged by Rory O'Malley, the actor who plays King George, when he looked at Pence as he sang the line, "when your people say they hate you, don't come crying back to me." The show lasted for a duration of nearly three hours with sly jokes and random outbursts taking place sporadically.
After the production was complete and Mike Pence was about to leave the theater, he was confronted with what some may call an obnoxious, inappropriate lecture and what others would swear was an inspiring call for unity. Brandon Victor Dixon, who plays Aaron Burr in the play, called upon Mike Pence just after the applause was given, while the audience members continued to remain in their seats. Dixon read a statement, which was written collaboratively by the cast of the musical ahead of time, thanking Mike Pence for attending but noting that "we are the diverse America who are alarmed and anxious that your new administration will not protect us, our planet, our children, our parents or defend us and uphold our inalienable rights. We truly hope this show has inspired you to uphold our American values and work on behalf of all of us." Dixon, to the roar of approval from the crowd, proceeded to repeatedly emphasize "all of us," as if he believed Mike Pence to be a politician concerned with the wellbeing of only a select few. "Hamilton" is known for a very diverse cast containing people of many different races and members of the LGBTQ community.
Pence responded by telling Fox News "I wasn't offended by what was said." His mellow response completely contrasts that of President-elect Donald Trump's. Trump released a series of tweets condemning the actions of the cast of "Hamilton." On Saturday,  November 19th at 5:48 AM Trump tweeted, "our wonderful future V.P. Mike Pence was harassed last night at the theater by the cast of Hamilton, cameras blazing. This should not happen!" Only 8 minutes later he tweeted again, saying, "the Theater must always be a safe and special place. The cast of Hamilton was very rude last night to a very good man, Mike Pence. Apologize!" His third and last tweet on the matter come on Sunday morning, at 3:22 AM, at which point he concluded, "The cast and producers of Hamilton, which I hear is highly overrated, should immediately apologize to Mike Pence for their terrible behavior."
Many celebrities and political figures have weighed in on the controversy with polarizing opinions. Newt Gingrich tweeted that "the arrogance and hostility of the 'Hamilton' cast to the Vice President-elect ( a guest at the theater) is a reminder [that] the left still fights." His post was followed by Kellyanne Conway, Trump's campaign manager during the election season, tweeting in agreement that "this is so true. And @mike_pence deserves respect and a peaceful night out with his nephew and daughter." On the other side, many people were very supportive of the cast of "Hamilton." Mayor de Blasio's office tweeted, "Bravo to the @HamiltonMusical cast for respectfully encouraging VP-Elect @mike_pence to work on behalf of ALL people." Additionally, the cast has received similar support from Idina Menzel, Kerry Washington, and Josh Gad.
An actor personally addressing a member of the audience is very rare and almost unprecedented. People have used theater throughout history to express their political views and they have the right to do so according to the first amendment. However, the real question is whether it is ethical to pursue a political agenda by singling out one man in a crowd of many who have come out simply to have a good time. Some might view a musical as an opportune forum to express political discontent while others view this as disrespectful, rude, and hostile.