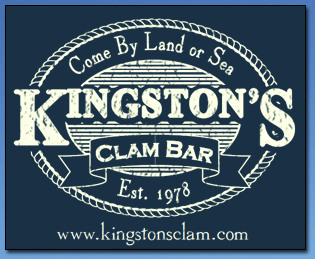 As all Long Islanders know, the most famous nautical snack is the timeless and varied lobster roll. Most local seafood restaurants have their version, yet when the Long Island news channel FiOS1 News included a segment on the presumed "Best Lobster Roll in Sayville", I was drawn to find out for myself whether the winner was truly fit for the crown.
Kingston's Clam Bar has the perfect environment for a seafood establishment. Located directly on the docks, Kingston's has the best view of both seas and boats ready to set sail. The aroma of salt and mollusks fill the air and the nautical decor complete the by-the-sea theme. Aside from the laughter and chit chat of patrons all to be heard are the happy squawks of seagulls in the distance. Most of the wait staff were infectiously generous and accommodating. On the other hand, there was one hostess who refused to move a table two inches to the right to seat large family; yet when her friends came to visit, moved an entire section around to fit the large party. That experience offended me by her use of rejection and pure special treatment towards 'VIP guests'. Instead of feeling welcome and a friend to the staff, I felt as if the hostess saw customers as merely moneymakers; not worth it to accommodate. Her denying of a more comfortable and scenic table to a first-time-visiting family definitely altered my opinion on the wait staff and my overall experience.
To my surprise, the cuisine at the clam bar was fresh and simple. Entrees include shrimp cocktail, fried calamari, and – of course – the infamous lobster roll. To start of the meal, I ordered the delicious New England Clam Chowder. Featuring fresh clams, the nautical classic was incredibly creamy and a true homage to the famous starter. However, Kingston's adds their own twist to the dish by incorporating potato skins into the broth. Served at the perfect temperature, the chowder was able to be devoured immediately with a side of New England Oyster Crackers to add in.
Now, moving on to the accredited lobster roll as crowned on "Restaurant Hunter" as the 'Best Lobster Roll in Sayville': To my dismay, although I could taste the freshness and feel the tenderness in the meat, the roll was rather dry and lacked much moisture. Unlike other lobster rolls in the Sayville area, the roll at Kingston's was made up of solely chunks of meat and an overpowering and oversized buttery bun. To me, it was not the "Best Lobster Roll in Sayville", for it was rather bland and tasteless.
All in all, if there is any reason to visit Kingston's Clam Bar in Sayville, Long Island it should be for the mainly sweet staff, relaxing scenery, and delicious New England Clam Chowder. Located on 130 Atlantic Ave in West Sayville, you can contact Kingston's at (631) 589-0888.