---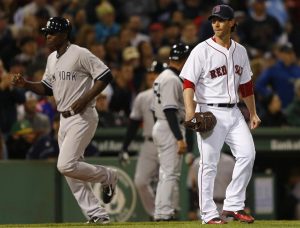 They may be down, but the Yankees are showing that they're most certainly not out. As recently as last week, the Yankees found themselves at the bottom of the American League East division standings, with a putrid record of 9-17. Their starting rotation and lineup were both near the bottom of the league in ERA, and runs scored, respectively. Even their bullpen, which was supposed to be historically good, with Dellin Betances, Andrew Miller, and the suspended Aroldis Chapman at the back end of it, had faltered. They had lost six in a row, and were in free-fall, with no end in sight. Factor in injuries to three key parts of the team, in Alex Rodriguez, CC Sabathia, and Jacoby Ellsbury, and it was looking like it could be a long season in the Bronx. Then, the unthinkable happened. The Yankees won a series. It was against their division rivals, the Boston Red Sox. The first game was a dramatic one, with an ending so exciting, it could've turned even the biggest baseball hater into a fan. In the second game, the Yankees rocked Boston's $217 million ace, David Price. Things were definitely starting to look up for the Yankees coming into this week's series against the defending champion, Kansas City Royals. But could New York continue their newfound winning ways?
If the Boston series didn't convince people that the Yankees were turning things around, game one of this series definitely did. The Bombers slugged five homers in the first three innings against Royals' starter, Chris Young, en route to an impressive win. Game two was a classic tooth and nail, back-and forth game, that saw the Yankees once again come out on top, with an emphatic 10-7 victory. After suffering a letdown in game three however, the Yankees would bounce back Thursday night to beat the Royals by a score of 7-3, taking three out of four games from the defending champs.
One major culprit of this team's struggles was third baseman, Chase Headley. Coming into Thursday night, Headley had not yet recorded an extra base hit this season. That all changed however in the third inning, when Headley sent a laser down the left field line for a two-run homer, and his first round-tripper of the year. For the past month, Headley had been the epitome of the team's struggles. With that home run, it truly felt, both literally and symbolically, that the Yankees had turned a corner.
As of the writing of this article, the Yankees still sit in last place, seven games behind the Red Sox and Orioles. However, there is now a different feel around this team. One of poise, and confidence. As the season trudges along, expect the Yankees to win many more games. Because as they've shown time and time again, you can never count them out.