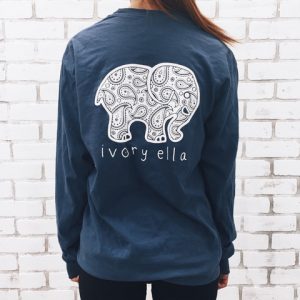 When someone says they are going to post a picture on Instagram, most people's minds go directly to selfies or pictures of friends and family. However, start-up companies are also a big part of the social media craze and are using that to their advantage to promote their products. Ivory Ella is a magnificent example of this new marketing strategy.
This audacious clothing company was created on April 18th, 2015. The company promptly created a Twitter, Facebook and Instagram to advertise their shirts. Currently, Ivory Ella has 828,000 followers on Instagram. The company's primary mission is to provide support for the elephants. By purchasing their products, a portion of their proceeds go to savetheelephants.org and other charities. As of March 15, 2016, they have raised $415,000.
Raw ivory has been a profitable "luxury" for many consumers but the ivory trade was made illegal in 1989 by Congress. Although it is illegal, poachers continue killing elephants to sell them through the black market. African elephants are the prime target of poachers, making them an endangered species. Between 2010 and 2012, 10,000 African elephants were killed for their ivory. This count does not include the elephants that are killed for "fun". While the sale of ivory may be banned, it is not illegal to hunt elephants. Bob Parsons, the former CEO of GoDaddy.com, was ridiculed for maliciously killing an elephant while on a safari in Zimbabwe and posting a video of it.
By promoting their products on social media, Ivory Ella has been able expand their company as well as raise awareness for the elephants.