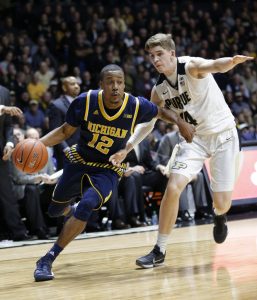 "College basketball, where the unexpected becomes the ordinary" says CBS Sports college basketball analyst Jon Rothstein. This year, that is exactly the case. Every single night, college basketball gets more and more interesting, and upsets happen so frequently, that nothing is a surprise anymore.
One big upset last Tuesday was Michigan over then the #3 team in the country, Maryland.  Michigan was going into the game without their best player and NBA prospect Caris LeVert, but you can never expect to win a game on the road in the Big Ten. Michigan shot an outstanding 41.4% from the field, and Maryland's 12 turnovers didn't help their cause either. An interesting stat about the 17-2 Terps is that they are 251st in the nation in ball security, and that has to change soon, before it's too late.
What has been the problem with Duke basketball so far this season? The defending national championships are only 14-5 and sitting at a mediocre .500 record in the league. So what's wrong with Duke? The loss to Amile Jefferson has appeared to hurt them as they are soft inside, only the 246th best defensive rebounding team in the country. In Duke's home loss to Syracuse, it was clear that the interior defense was the issue, as Tyler Roberson single-handedly had 12 offensive rebounds for the Orange. Duke has to toughen up inside without Jefferson who is out indefinitely with a broken foot, or they will not make it to the second weekend of the NCAA Tournament.
Life on the road in the Big 12 isn't easy either, however, #3 Kansas got absolutely embarrassed in a 19-point loss at 10-8 Oklahoma State, a game in which they were heavy favorites. A stat to look at in this game was Kansas' free throw shooting percentage, they shot 52% and missed twelve free throws, a stat that is unacceptable for the #3 team in the country. It doesn't get any easier for the Jayhawks, as they have 2 top tier Big 12 teams and #23 Kentucky next.
With March right around the corner, the madness has started to pick up. All the upsets that have occurred, whether they be over #1 seeds or #25 seeds, point towards a very interesting end of the season. At this point, there is no telling what the championship tournament will look like, however, you can guarantee that it will be an exciting one to watch.